Clarifying SAC Capital's Civil Settlement
By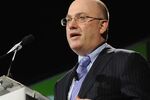 The U.S. Securities and Exchange Commission announced a landmark settlement on March 15 with hedge fund SAC Capital in which SAC agreed to pay around $602 million to resolve claims pertaining to illegal trading at the fund. The SEC is calling it the largest-ever settlement of an insider trading case, and it resolves a major regulatory issue that's been hanging over the company. But the broader investigation of insider trading at SAC Capital continues.
What does this mean?
The settlement resolves the SEC's civil case against the corporate entities that employed Mathew Martoma, as well as several SAC Capital hedge funds that received ill-gotten gains from the trading at the heart of the Martoma case. Martoma is a former SAC portfolio manager who was charged in November with trading in two drugs stocks, Elan and Wyeth (now part of Pfizer), based on illegal information.
Martoma's case generated much attention because it represented the first time SAC Capital founder Steven Cohen had been linked directly to trading based on ill-gotten information. Cohen has not been charged. Through a spokesperson, Cohen and his firm deny any wrongdoing. The SEC settlement doesn't change anything for Martoma personally; he still faces both SEC charges and a criminal case moving toward trial. Martoma has pleaded not guilty.
What about the Sigma Capital settlement?
The SEC also announced a settlement of nearly $14 million with Sigma Capital, a SAC unit, for trading that was based on illegal information obtained by one of its former analysts, Jon Horvath, in two technology stocks, Dell and Nvidia. As with the CR Instrinsic settlement, this resolves the SEC's civil claims against the corporate entity at SAC Capital that employed Horvath and that benefited financially from the trades in question. Horvath had previously pleaded guilty to the charges and has been cooperating with the government's investigation.
What else is coming?
Overall, these developments suggest that the investigation is expanding, rather than winding down. George Canellos, acting director of enforcement at the SEC, seemed to go out of his way on Friday to say that the settlement does not preclude charges against Cohen himself, who was not named as a defendant in this case. And the Sigma settlement also yielded some new information, including allegations that Horvath passed illegal information to two portfolio managers at SAC Capital. One was previously known to be Michael Steinberg, who has been on paid leave from SAC since September. The second portfolio manager has since been identified as Gabriel Plotkin. This suggests that new investigatory veins are opening into the company and that the government is pursuing them.
Before it's here, it's on the Bloomberg Terminal.
LEARN MORE