Albuquerque Rides a 'Breaking Bad' Bump
David Wescott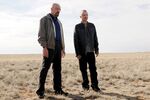 For some fans of the critically-acclaimed AMC drama, Breaking Bad, it's not enough to incessantly talk about the show, which centers on the plight of a science teacher-turned-meth dealer. They actually want to live it—at least as tourists. And businesses in Albuquerque, N.M., the show's filming location, are cashing in.
The Albuquerque Convention & Visitors Bureau has begun offering maps and 3.5-hour trolley tours, which sold out at $60 per pop last year. Twisters, a local fast food chain, doubles as the setting for the fictional Los Pollos Hermanos—a restaurant at which a character distributes drugs—and was recently heralded as "an international tourist attraction." A local candy store started making treats that look like crystal meth, which promptly sold 20,000 units.
This isn't the first time fiction has translated into real dollars. Here are some other American locations that have profited, too, thanks to make-believe doppelgangers.
Martha's Vineyard, Mass., filming location of Jaws
The number of summer tourists went from around 5,000 a year before Jaws (1975) to 15,000 per year after the release of the film about a massive shark that hunts vacationers at a fictional place called Amity Island. The Martha's Vineyard Chamber of Commerce currently offers a map with 10 of the movie's locations. In 2012 the island started hosting an annual JawsFest, a four-day celebration for "finatics" that includes panel discussions, trivia hunts, tours, and even reenactments of scenes from the film. Susan Backlinie, who played the character named Watkins, told USA Today that she would attend, but would stay dry: "I'm just a not a big night swimmer."
Mount Airy, N.C., home town of Andy Griffith
Andy, Barney Fife, Opie, Gomer Pile, and company may have been on air a half-century ago, but fans still flock to Mount Airy, Andy Griffith's hometown, which inspired fictional Mayberry. The Andy Griffith museum ($3 for entry, $5 with the audio guide) boasts props from the show and a recording of speeches from the 2002 Andy Griffith Highway Dedication. Founded with $600,000, the museum has also featured occasional appearances from Betty Lynn (character Thelma Lou on the show).
Baltimore, filming location of The Wire
From the site of Snot Boogie's demise in the series' opening scene to Stringer Bell's copy shop, intrepid fans of The Wire—the police procedural that ran for five years on HBO—have descended on Baltimore. The self-guided driving tour might come with a bit of self-awareness. As one journalist put it, "We were excited to traverse such hallowed ground, but there was also a sense that we were intruding on misfortune for our entertainment."
Savannah, Ga., filming location of Midnight in the Garden of Good and Evil
Whether you're a fan of the book or the film, relive the mystery surrounding the murder of Danny Hansford via a bus or walking tour in Savannah. Fans go for the magic, the magnolias, and the bizarre real life characters. As one tour puts it: "You will get a little history on this tour, but once we get down into 'midnight country' we're gonna get deep into voodoo."
Mystic, Conn., filming location of Mystic Pizza
This 1988 coming-of-age film launched the careers of Julia Roberts and Annabeth Gish, who played small town high schoolers moonlighting as waitresses at a place called Mystic Pizza. For lucky fans, Mystic Pizza is real—and it's still open for business. In fact, the business has expanded with Mystic Pizza II and a frozen pizza franchise. Cheese slices cost $2.29, and a wide range of merchandise is on sale, from bumper stickers to beer glasses. Some naysayers persist. Confessed one online reviewer: "Cynics snort 'Julia Roberts could make better pizza than this.'"
Before it's here, it's on the Bloomberg Terminal.
LEARN MORE