Will Lando Calrissian Return in Disney's 'Star Wars' Sequel?
Fans long to see the "coolest character" in the galaxy in next film
By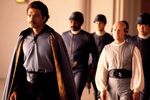 Where's Lando?
That's what Star Wars fans have been wondering now that George Lucas has admitted that he has talked to members of the original cast, including Mark Hamill, Carrie Fisher, and Harrison Ford, about appearing in the upcoming sequel. But it's not clear whether they will see the return of Billy Dee Williams, the suave actor who played Lando Calrissian, administrator of Cloud City.
This is hardly an academic matter. Two years ago, IGN selected Lando as No. 11 on its list of the top 100 Star Wars characters, calling him "the coolest character in the Star Wars galaxy," a reputation only enhanced by his star turn in late-night commercials for Colt 45 malt liquor. More recently, he has tantalized Star Wars lovers by sending conflicting signals about his potential involvement in the upcoming movie while enjoying the adulation of his admirers at recent comic book conventions.
Earlier this month, fans at the Emerald City Comicon in Seattle asked Williams if he was going to be in the movie. According to a report by Chris Clow on Movies.com, Williams said he hadn't been approached by Lucas or anybody else involved in the upcoming movie scheduled for release in 2015: "'They're still writing it,' he said, adding that he hasn't been approached, but said he would gladly be in it."
Then something remarkable happened. Clow writes that Williams's "representative" grabbed the microphone from the actor and encouraged his fans to make their wishes known to Walt Disney, which purchased Lucasfilm and the Star Wars franchise in December, and will be producing the forthcoming film. Williams, however, would not be silenced. "Nobody can play Lando but me," he declared.
Maybe it worked. The following weekend, Williams appeared at Monster-Mania Con in New Jersey. According to Film Buff Online, Williams told an interviewer that he had been asked to be in Star Wars Episode VII, but "hasn't decided if he is going to do it or not yet."
Williams is 75 years old. Why would he turn down a chance to reappear as Lando, especially when he has lent his distinctive voice to Star Wars video games and Cartoon Network parodies of the franchise? Like everything Star Wars-related, his statement was closely parsed by fans on the Internet.
Then Williams confused everybody again. On March 14, the Lexington Herald-Leader's John Cheves wrote that he had spoken to Williams at the Lexington Comic and Toy Convention in Kentucky. Cheves softened him up with unthreatening queries.
Q: Apparently, Lando's biography is fleshed out in a long series of Star Wars movies and comics, from his wayward youth as a gambler to his comfortable retirement. Do you follow those stories?

A: No, I haven't read any of them.
Then Cheves asked the question that presumably was on the minds of many of his readers.
Q: There are rumors that you'll appear in the next Star Wars trilogy with Harrison Ford and your other old co-stars. True?

A: I have no idea. Nothing has been decided yet. They'll let me know.
So now Lando's fans are back where they started. They still don't know if the former Star Wars pirate will reappear in Episode VII. It could be that Williams doesn't either. Or maybe he is simply keeping his fans on the edge of their seats while he publicly lobbies Disney for a role in the next film, playing both sides for his own gain. That's what Lando would do.
Before it's here, it's on the Bloomberg Terminal.
LEARN MORE