SAC Hedge Fund Unit's Horvath Tipped Two People Says SEC
Patricia Hurtado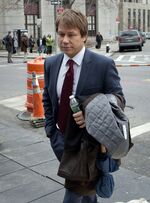 Jon Horvath, an analyst at SAC Capital Advisors LP unit Sigma Capital Management, provided inside information to two unidentified fund managers at SAC, earning it more than $6.4 million in profits and avoided losses, the Securities and Exchange Commission said in an amended complaint filed in Manhattan federal court.
Previously, the agency had said only one SAC employee received tips from Horvath, who fought insider trading charges filed by the Justice Department until September, when he pleaded guilty a month before trial and agreed to cooperate.
The SEC complaint stated there is a second portfolio manager at SAC implicated in the receipt from Horvath of material nonpublic information about Dell Inc. and Nvidia Corp. The amended complaint comes the same day as Stamford, Connecticut-based SAC, run by billionaire hedge fund manager Steven A. Cohen, agreed to pay a record $614 million to settle SEC allegations that two of its affiliates made illegal trades using nonpublic information.
Insider Trading
When he pleaded guilty to being part of an insider trading ring that reaped more than $72 million in illicit profits, Horvath said he and his co-conspirators obtained material nonpublic information on Dell in August 2008 and about Nvidia in May 2009 from insiders at the two technology companies which reaped $72 million. In December, two men charged with being part of the scheme, Level Global Investors LP co-founder Anthony Chiasson and ex-Diamondback Capital Management LLC portfolio manager Todd Newman, were convicted of conspiracy and securities fraud. They await sentencing.
Horvath told the judge presiding over his case that he provided illegal tips to his portfolio manager, who then traded on the tips. While Horvath never named his fund manager in court, U.S. District Judge Richard Sullivan in New York ruled that Horvath's supervisor, Michael Steinberg, was an unindicted co-conspirator in the scheme. Steinberg has denied any wrongdoing.
Horvath, who worked at SAC's Sigma unit from 2006 to 2011, is cooperating with the insider-trading investigation by Manhattan U.S. Attorney Preet Bharara's office and the Federal Bureau of Investigation in New York.
Told Judge
Horvath told the judge during his plea that he "agreed to obtain and share information about public companies." He also said he passed inside information he had obtained on to his portfolio manager who later traded on the illegal tips.
"In each instance I provided the information to the portfolio manager I worked for and we executed trades in the stocks based on that information," Horvath told Sullivan.
Of the eight people charged in the criminal case brought by Manhattan U.S. Attorney Preet Bharara's office, six people have pleaded guilty.
Steinberg hasn't been charged with wrongdoing. His lawyer, Barry Berke, didn't return a call seeking comment. Ellen Davis, a spokeswoman for Bharara's office, declined to comment on the SEC allegations.
The criminal case is U.S. v. Newman, 12-00121, U.S. District Court, Southern District of New York (Manhattan); the SEC case is SEC v. Sigma Capital, Southern District of New York (Manhattan).
Before it's here, it's on the Bloomberg Terminal.
LEARN MORE