Obama-Republican Budget Battle Isn't Only Taxes and Cuts
Mike Dorning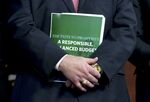 The wrangling of President Barack Obama and congressional Republicans over the federal budget underscores a clash of core philosophies about how the economy works that supersedes any skirmish on taxes or spending cuts.
A target that Republican House Budget Chairman Paul Ryan has set for a balanced budget within 10 years without any new taxes reflects the priority his party places on private investment. The point of the budgetary sacrifice is to encourage investors to bet on the future and spur hiring with assurances that profits won't be eroded by taxes or inflation.
Obama and fellow Democrats consider the push for a balanced budget counterproductive to the resurgence of the U.S. economy as well as an unfair burden on the poor and elderly who disproportionately benefit from government spending.
The gulf between the two augurs no immediate resolution as lawmakers face the hurdles of averting a government shutdown on March 27 and confronting another debt-limit ceiling in May. While both sides are intent on meeting the first deadline, the larger debate over the deficit could run for months.
"My goal is not to chase a balanced budget just for the sake of balance," Obama said in an interview aired on ABC's "Good Morning America" March 13, the day after Ryan released his proposed budget. "My goal is, how do we grow the economy, put people back to work, and if we do that, we're going be bringing in more revenue."
Democrats' Goal
A more modest goal that the White House and congressional Democrats have set of lowering deficits with a mix of spending cuts and tax increases comes from a different viewpoint about the economy that includes a greater role for government.
Their view places more emphasis on spending on education and infrastructure to generate economic growth by broadly boosting Americans' competitive edge. It also stresses the risk of curtailing government purchases and benefits at a moment when most private businesses still confront weak demand.
Ryan and many Republican colleagues say the growing level of government debt is the bigger risk -- not just in the future.
"Deficit and debt hurts today's economy," Ryan told Fox News's Sean Hannity on March 13. "It's making it more uncertain for businesses. It's promising that our currency is debased in the future, that we have inflation down the road, that we have high interest rates."
Investors' Reaction
Financial markets aren't showing concern about U.S. debt levels. Yields on 10-year Treasury notes were 2.03 percent at 5 p.m. yesterday in New York, compared with an average of 4.88 percent over the past 20 years.
Investors expect inflation of 2.6 percent a year for the next 10 years, as measured by the price difference between Treasury Inflation Protected securities and nominal notes. By comparison, the U.S. consumer price index has risen an average 2.5 percent a year over the past 20 years.
As House Republicans and Senate Democrats unveiled their budgetary blueprints for fiscal 2014 this week, Obama met privately with each of the parties' caucuses in both chambers. The House and Senate also are working on a temporary spending measure to get the government through the fiscal year ending Sept. 30, with the Senate expected to vote as soon as Monday and then confront an opposing House bill.
"We had a candid exchange" mostly on "the transcendent issue of our time, our deficit and debt," Senate Republican Leader Mitch McConnell told reporters after his senators' meeting with the president yesterday.
"It was a great conversation," Obama said as he left, heading to a meeting with House Democrats that capped three days of talks on Capitol Hill for a president seeking a deal.
Doubts Voiced
Yet the fundamental difference between the two parties could be heard in reaction from both sides.
Senator Charles Schumer of New York, the chamber's third-ranking Democrat, said Ryan's budget is "filled with deceptive gimmicks, far-fetched assumptions and phony arithmetic."
"Would his budget truly achieve balance? Only if you believe in magic," Schumer told reporters. "Congressman Ryan's fiscal plan relies on a lot of budgetary sleight of hand in order to create the illusion of a balanced budget."
Republicans accused Obama of the same lack of seriousness.
"After today's meeting, it is clear to me that balancing our budget and cutting bloated Washington spending are not President Obama's top priorities," Senator John Cornyn of Texas, the second-ranking Republican, said in a statement.
Ryan Plan
Ryan this week proposed balancing the government's books in 10 years by cutting $4.6 trillion in spending. Senate Budget Committee Chairman Patty Murray, a Washington Democrat, proposed a budget generating almost $1 trillion in new tax revenue while protecting Medicare and expanding Medicaid health coverage for more low-income Americans.
The political leaders' differing approaches reflect the priorities of their parties' supporters.
Republicans prefer "steep cuts" in the budget deficit now rather than delaying them until the economy improves by a margin of 55 percent to 41 percent, while Democrats favor delay by 71 percent to 24 percent, according to a Bloomberg National Poll taken Feb. 15-18. Political independents slightly favor a delay, by 49 percent to 45 percent.
Economist Douglas Holtz-Eakin, an adviser to Senator John McCain's 2008 Republican presidential campaign, calls deficit spending by government a deterrent to hiring.
Tax Concerns
"Just think about the proposition we are presenting to anyone who wants to run a business here, expand a business here," Holtz-Eakin said. "Every dollar of debt out there is a promise of higher taxes unless you're willing to cut spending too, and good grief, that's a lot of taxes."
Under current law -- which includes $1.2 trillion in automatic spending cuts over the next nine years -- the federal government's publicly held debt is projected to be 76 percent of gross domestic product this year and stand at 77 percent of GDP in 2023, according to the Congressional Budget Office.
Alice Rivlin, who was a budget director for President Bill Clinton in the 1990s and co-chaired a bipartisan debt panel with former Republican Senate Budget Committee Chairman Pete Domenici, says the government should strive to bring down the size of the federal debt in comparison with the economy.
Still, she said, Ryan's goal of a balanced budget within 10 years is an "unnecessary and unwise" target and "more aggressive" than goals set by either the panel she co-chaired or another led by former Republican Senator Alan Simpson and Clinton White House chief of staff Erskine Bowles.
Economic Impact
"I don't think you can get there as quickly as chairman Ryan wants to without reducing the growth of the economy," Rivlin said.
Though Rivlin has backed changes in entitlement programs such as Social Security and Medicare to reduce the cost to the government as the Baby Boom generation swells the ranks of the elderly, she contends that some accommodation must be made for their needs in old age.
"It's just unrealistic," she said, "to expect we can absorb this many seniors coming into retirement and health programs without increasing the size of government beyond the size we were used to when there weren't as many seniors."
Before it's here, it's on the Bloomberg Terminal.
LEARN MORE