GPA: For Would-Be Business Majors, It Still Matters
Francesca Di Meglio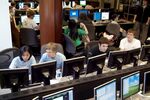 One of the factors that determine whether applicants will be accepted into undergraduate business programs is grade point average. Whether it's high-school GPA used in freshman admission to four-year business programs or college GPA used in admission to two-year programs, GPA still matters. A lot.
"GPA is important, and we're going to look at it to get a snapshot," says Rebecca Locke Leonard, associate dean for student services at the University of Virginia's McIntire School of Commerce. "Then we're going to look beyond GPA. I think of it as a starting point."
UVA students apply to McIntire in their sophomore year. While there's no cutoff, the school admits about 60 percent of its applicants, and the average college GPA among the accepted is 3.6. Comparing the cumulative GPA with the GPA the student receives in prerequisite courses, such as math and accounting, is common, says Leonard.
At Emory University's Goizueta Business School, students also apply as sophomores. The school looks at the student's GPA and college record so far, along with leadership potential and involvement on campus, says Libby Egnor, assistant dean of the BBA program at Goizueta. The average GPA of those who get accepted is about 3.6. While there's no minimum, a low GPA could mean trouble.
"Anything below a 3.4 starts to get dicey," says Egnor. "Then they have to bring something else to the table."
Admissions committees are looking at the grades you get in individual courses, too. They are most interested in seeing that you can do well in classes relevant to the work you'll be doing in business school. And they want to see rigorous courses on the transcript, not just easy As.
If you don't get into the major the first time around, you can try again in the fall of your junior year. Most who fail in the second round don't usually try again, because acceptance any later than the fall of one's junior year means staying in college longer—and paying more tuition, says Egnor. About 70 percent of those who apply get into the major.
Cornell University's Dyson School of Applied Economics & Management does things a little differently. It screens students for the business school when they apply to the university. As a result, the admissions committee looks at the student's college application, which includes high school GPA.
While there's no minimum GPA for those applying as freshmen, there is one—3.5—for those who want to transfer to the program from other universities as sophomores. In addition, transfer applicants must also have taken required courses, including micro and macroeconomics, calculus, and either two courses of intensive writing or one writing and one public-speaking course.
Even though the admit rate for the Class of 2016 was 10 percent, Pamela Tan, director of admissions at Dyson, tells applicants to keep grades and scores in perspective.
"Standardized test scores and GPA give you an idea of how you'll do in that first year," says Tan. "It's helpful for us to have a common yardstick. It's part of the process, but it's not everything."
Join the discussion on the Bloomberg Businessweek Business School Forum, visit us on Facebook, and follow @BWbschools on Twitter.
Before it's here, it's on the Bloomberg Terminal.
LEARN MORE