Caterpillar's Chinese Lessons
by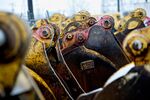 Caterpillar has a well-earned reputation as a global technology leader, having done a masterful job diversifying from its main construction equipment business into mining equipment, heavy-duty engines, electric power generation, and locomotives. Yet when it comes to performance in China, the world's largest market for its products and services, Caterpillar seems to be floundering. Although it opened a Beijing office in 1978, the company's current market share in China is only about 7 percent, behind such local competitors as Sany and global players such as Komatsu.
Caterpillar's missteps in China have been not only strategic but also operational. Last June it paid $886 million to acquire ERA, a Chinese company that makes roof supports for coal mines, but last month Caterpillar said an internal investigation found "deliberate, multi-year, coordinated accounting misconduct," resulting in the need to take an impairment charge of approximately $580 million.
For its part, Caterpillar says the company's China business is healthy. "We continue to build out our entire business model in China," spokesman Jim Dugan said in an e-mail. "This includes the broadest product line in our industry and unmatched support from our dealers. We were the first American heavy manufacturer to sell products in China following President Nixon's historic visit to China in the early 1970s, and we have continued to grow as we support our base of Chinese customers."
Caterpillar's travails yield four important lessons for multinational companies keen to build market dominance in China.
Beware of the "1.3 Billion Customers" Syndrome
We agree with Cat Chief Executive Doug Oberhelman's oft-repeated observation that China accounts for the world's largest construction market not just today but for the foreseeable future. It's easy to see why, when he became CEO in 2010, he told investors that "we're going to play offense" in China. Oberhelman announced a plan to quadruple (yes, quadruple) the production of excavators in China within four years.
Caterpillar's rivals, however, were also well aware of the size of China's construction market, and they weren't planning to cede market share to Caterpillar. In 2010, if we could add up the targeted 5-year market shares of all of the players in China's construction equipment market, the figure would almost certainly have been more than 200 percent, a perfect setup for massive disappointment for at least some of the players.
Thus, in devising a strategy for China, it's critical to look beyond the obvious reality of 1.3 billion customers. Corporate leaders must also strive for clarity about how they will beat equally determined and perhaps more capable competitors. In a price-conscious market dominated by low-cost players, Caterpillar (which imported 40 percent of its excavator components from Japan) was a very high-cost competitor. This is not the type of competitive disadvantage that Cat could overcome within a short span of four years.
Don't Base Tomorrow's Strategy on Yesterday's Reality
The period 2006-10 was unusual for China, as the country's leaders accelerated the pace of investment in infrastructure and real estate. In 2009 and 2010, the government implemented a one-time 4 trillion yuan stimulus package aimed at helping the country survive the global financial crisis. The market for construction machinery exploded during this period, and Caterpillar found itself short of capacity. By 2011, the government had begun to close the spigots, the real estate market was beginning to cool, and the demand for commodities had started to taper off. Unfortunately for Caterpillar, this is precisely when the company decided to become exceptionally aggressive in boosting production capacity in China—a clear case of developing tomorrow's strategy based on yesterday's reality.
What's "Normal" Elsewhere May Not be "Normal" in China
In the case of the "accounting misconduct" at ERA, Cat's leadership says its auditors conducted what they thought was adequate due diligence of the target company's operations and books. As Caterpillar has stated, however, it discovered after the acquisition a serious mismatch between physical inventory and the stated figures on the company's books. Clearly, neither the auditors nor the company were sufficiently thorough in the due diligence process. Brad Haverson, Caterpillar's chief financial officer, told Bloomberg Businessweek that a physical inventory check wouldn't "normally" be done as part of the process of evaluating a company. The magazine also quoted Mr. Halverson as noting that "We did our normal due diligence process."
One can only conclude that Cat's leadership was naïve about the risk of accounting misconduct at Chinese companies, especially those, such as ERA, that became publicly listed through reverse mergers. Over the past 2-3 years, the U.S. Securities and Exchange Commission has filed fraud cases against nearly 40 Chinese companies listed in the U.S. and has delisted many of them. The SEC has also accused the Chinese affiliates of leading accounting firms with violating securities law for failing to disclose information pertaining to several Chinese companies traded on U.S. exchanges.
Companies aiming to avoid missteps in China should start with the assumption that what's normal in developed markets may very well not be normal in China. It is extremely important to go well beyond normal checks and even verify whether the company being acquired actually owns the brands, the real estate, and the equipment it claims to own.
Eliminate the "10,000 Mile" Gap
Corporate leaders know the world's center of gravity is moving toward Asia. Yet, more often than not, leaders with the power to shape a company's future direction are far removed (psychologically, cognitively, and physically) from the new epicenters of global change. They rely primarily on information that is not merely "old" but also filtered and processed to make it palatable—in other words, information that may well be useless or even misleading. Given the complexity and importance of emerging markets, there can be no substitute for gut-level judgment based on direct observation and immersion within these societies.
As he was preparing to take charge as the company's new CEO in 2010, Oberhelman seems to have realized the need to reduce or eliminate the 10,000-mile gap. As one of his early actions, he asked Rich Lavin (group president for construction industries and emerging markets) to move from Peoria, Ill., to Hong Kong. This was not enough, however, to prevent Caterpillar from committing some serious strategic and operational mistakes.
Contrast Caterpillar's actions with those of Schneider Electric. Even though the company's global headquarters remains in France, for the past several years CEO Jean-Pascal Tricoire and two of his most senior executives (the heads of strategy and human resources) have lived and worked out of Hong Kong. It seems clear that Tricoire's goal is to build knowledge that's deep rather than superficial. Every Fortune 500 CEO would do well to take this lesson to heart.
Before it's here, it's on the Bloomberg Terminal.
LEARN MORE