Are French Unions Learning to Make Concessions?
By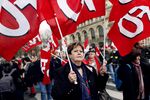 Are France's notoriously tough labor unions finally stepping back from the barricades? For years, they've fiercely resisted any effort to scale back the welfare state and relax rigid labor laws—even after unions in Germany and elsewhere started accepting such changes.
Over the past few weeks, though, French labor leaders have taken a more conciliatory stance. This week, they agreed with employers on a plan to trim increases in retirement benefits for private-sector workers, while increasing those workers' payments into the pension system.
In January, unions approved a proposal making it easier for companies to reduce working hours and salaries during economic downturns. "This is an ambitious agreement that will aid employment," said Patrick Pierron of the CFDT union, one of three national labor groups that backed the plan in January.
Two of the country's five national unions opposed both the pension and labor reforms. However, support from at least three unions is enough to ensure the reforms' adoption under French law.
French unions are under pressure as never before, to make sacrifices to improve the country's economic competitiveness. French labor costs are the second-highest in Europe, after Belgium, and unemployment has risen to 10.6 percent, a 13-year high, as employers shed tens of thousands of jobs.
Germany's unions faced a similar situation a decade ago, when unemployment there stood at 9.5 percent. They forged a bargain with then-Chancellor Gerhard Schröder to put a lid on wage increases in exchange for job security, while rolling back unemployment benefits and other welfare programs. German unemployment is now half the rate in France.
So far, French unions have shown no sign they're prepared to support deeper reforms. "They are not yet willing to accept the wage flexibility that Germany has," says Eric Chaney, chief economist at French financial-services group Axa. And while the measures approved in January give employers some additional maneuvering room, they don't make it any easier to lay off workers—which under French law is enormously time-consuming and expensive, thereby deterring employers from hiring.
While the unions agreed to trim retirement benefits for private-sector employees, they haven't touched the pensions of government workers, who in the past have launched crippling nationwide strikes to protect their benefits.
Unions would have a harder time bringing the country to a halt now, because a law enacted under former President Nicolas Sarkozy requires railroads, utilities, and other public entities to continue providing basic services during strikes.
A greater risk, Axa's Chaney says, is that investors will lose patience with France, which until now has been regarded as a safe haven compared with Italy, Spain, and other troubled economies. "At some point, the financial markets may really get scared by the divergence between France and Germany," he says. "The strike I'm afraid of is in the bond market."
Before it's here, it's on the Bloomberg Terminal.
LEARN MORE