The People's Movie: The Triumphant Return of 'Veronica Mars'
by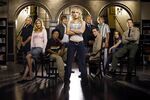 Yesterday the Internet paid $2 million for a movie. Not an indie film conceived by a struggling student or a devoted documentarian, but one that will ultimately be owned and distributed by Warner Brothers. The project is a Veronica Mars movie, based on producer Rob Thomas's TV series about a witty teenage sleuth that only lasted three seasons before it was canceled in 2007.
Thomas wrote the feature film script years ago but couldn't get the project greenlighted until yesterday, when he launched a Kickstarter campaign and persuaded more than 40,000 people to give him $2 million to see their beloved TV show on the big screen. The whole thing took about nine hours.
Some people have called donations to Thomas's project a waste of money—that successful Hollywood producers shouldn't be panhandling on the Internet—but that's a moral judgment, not an economic one. Another way to look at it is to say that the Web has created a way to resurrect shows that died tragically young, as well as offbeat programs that never fit snugly into a specific market.
Google "TV show canceled before its time," and you'll discover a rabbit hole of entertainment nostalgia. There's Firefly, Joss Whedon's space Western that was canceled in 2002 after 11 episodes. There's Freaks and Geeks, Paul Feig and Judd Aptow's 1999 show about high school stoners and misfits, which starred several talented unknowns: Jason Segel, James Franco, Busy Phillips, and Seth Rogen. My So-Called Life was an endearingly realistic teen drama that launched Claire Danes's career, but it lasted only 19 episodes before ABC suspended it in 1995 because of low ratings. And don't forget Pushing Daisies, Twin Peaks, Undeclared, Futurama, and Arrested Development, the absurdist comedy about a wealthy family, a banana stand, and—well, let's just leave it at that.
Many of these shows been revived in one way or another. Netflix is fronting a reboot of Arrested Development as the streaming service tries to lure viewers away from traditional TV. Universal reportedly spent $45 million to turn Fox's Firefly into the feature film Serenity; Futurama (again, Fox) was revived by Comedy Central; and ABC's Twin Peaks became the indie film Twin Peaks: Fire Walk With Me, which was a hit among David Lynch fans and almost no one else.
Even so, resuscitating a series can be challenging even if the original cast is on board, which was the case for Veronica Mars. "Warner Bros. wasn't convinced there was enough interest to warrant a major studio-size movie about Veronica, and the project never got off the ground," Rob Thomas wrote in his Kickstarter pitch, echoing what Joss Whedon told the New York Times when Serenity came out in 2005: "They're not going to spend $100 million on a movie that you really have to get people to come to."
This time, though, the major company's still there, but it doesn't have to front the costs. And until yesterday, why would it? Veronica Mars averaged only about 2.5 million viewers per episode when it aired on UPN (now the CW). Arrested Development brought in about 6 million in its heyday. My So-Called Life had 10 million viewers when it was canceled (although television audiences were much less fragmented then. so it's a little misleading to do a straight comparison).
Kickstarter just might be the only way for a show this small to prove its big worth.
Before it's here, it's on the Bloomberg Terminal.
LEARN MORE