Social Sports Betting Tempts March Madness Gamblers
Jeff John Roberts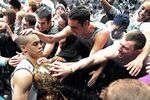 As March Madness, one of the biggest under-the-table gambling events in American sports, approaches, sports site Fanhood.com is trying to tempt users and their friends to place tournament picks and other friendly wagers online. The site is one of a growing number of "social casinos," like Zynga Poker, that offers casual play—but is also crossing its fingers for a windfall as states loosen online gambling restrictions.
According to Chief Executive Officer Brandon Ramsey, a former engineer at Yahoo! and Zynga, Fanhood is aimed at the millions of Americans who make sports bets with friends just for fun and bragging rights. He claims the site, which relies on Facebook's platform, has 50,000 active users, who can use virtual currency tokens to bet on everything from the Super Bowl to NHL games.
"It's the same kind of psychology as taking $5 from a friend," says Ramsey, claiming that Fanhood's message boards and ongoing tallies of bet outcomes will keep users coming back. He adds that virtual currency sales can sustain Fanhood because, unlike social games such as FarmVille, it doesn't need fresh content—the sports matches supply that.
While Fanhood may succeed with virtual betting and sports chatter (much like the thriving fantasy sports industry), a big payoff would come if its users could bet real money—a New York Times report pegged the online gambling industry as worth anywhere from $6 billion to $100 billion. For sports, though, this is a long shot at best.
Like Zynga Poker, Fanhood is only legal because players can't cash out. If they could, these sites would be violating federal laws that forbid online betting—unless it takes place in a state where it's legal.
In recent months, the prospects for social gaming companies have brightened as Nevada, New Jersey, and Delaware have legalized online gambling. The process, however, is far from smooth sailing. Companies still must navigate established casino interests and, in the case of poker, assemble a critical mass of players (you can only gamble across state lines if all states involved permit it).
The legal challenge is even bigger when it comes to sports betting. According to James Gatto, a lawyer who specializes in gambling issues, the federal government deliberately excluded sports when it loosened online gambling rules in 2011. The reason, he says, is that sports depend on human action for the result—meaning there is an incentive to fix the results when there's money on the outcome (history, including the NBA, shows he's right).
For the foreseeable future, Fanhood and other social sports betting sites will have to be content with virtual currency. There is also a chance, of course, that a casino or other large gambling company could acquire them in hopes of luring casual sports bettors to a gambling site.
Also from GigaOM:
Mobile Gambling in the U.S.: A Great Bet in the Long Run (subscription required)
Facebook Tweaks Its Algorithms to Improve Graph Search; Comment Search Coming
2012 Was a Record-Breaking Year for Solar Panels in the U.S.
Too Many Remotes? The Internet of Things Can Solve It