Q&A: Touring Rome With Dennis Rodman and a Popemobile
by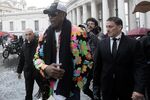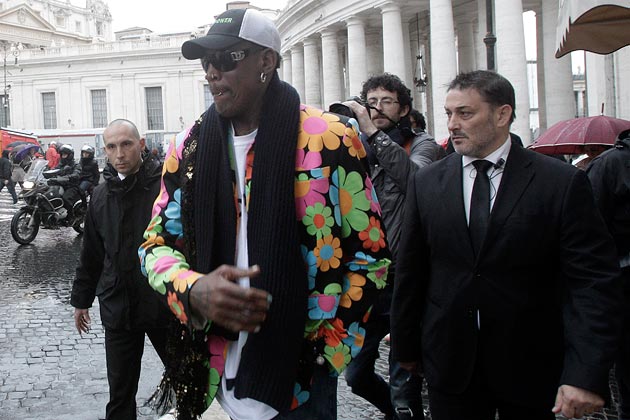 The Worm is on a roll. After his surreal bromance with North Korean dictator Kim Jong-un a few weeks ago, the NBA star and cultural oddity Dennis Rodman swept into Rome on behalf of a sponsor—the Ireland-based gambling site Paddy Power—where he posed for pictures in St. Peter's Square, spouted words of world peace, and generally caused a frenzied, Rodman-esque scene.
Paddy Power has a long history of publicity stunts, which range from having a Danish soccer player drop trou during a game to holding a horse meat giveaway during a national horse meat scandal. In 2008, they came under fire for setting odds on President Obama's assassination (for the first term: 12-1; it was soon removed.)
Bloomberg Businessweek caught up with Rory Scott, spokesperson for Paddy Power, who was at Rodman's side at the Vatican throughout the entire day.
Why Dennis Rodman?
It's a very random and bizarre twist of fate. After his trip to North Korea, he was the man of the moment. We were running a deal: If the cardinals elect the first black pope, we'll refund all losing bets. We were putting our necks on the line for over a million dollars. Pope betting is nothing new—it's as old as the conclave itself. Dennis caught wind of this and thought it was pretty funny. He wants to cast himself as this global peace ambassador, so he said, "Listen, I'll come to Rome, I'll talk about your betting, and I'll help you spread the gospel of Pope betting," and it kind of went from there.
Wait—he came to you?
We went to him initially. We heard that he wanted to be this ambassador of world peace. His thinking was that if the cardinals elect a black pope, the world will be a better place—more love and peace and goodwill toward man.
Why is Rodman a good fit for you in terms of marketing?
It's a match made in heaven for our brands. Dennis is wacky and mischievous. He doesn't mind ruffling a few feathers, and Paddy Power is exactly the same.
How did you work with Rodman?
I tried to give him a briefing, you know, about why we're here and why certain guys are the candidates for pope that we're rooting for. But he's a free spirit. It was kind of the Dennis Rodman show.
We planned to have Dennis arriving in a pope-mobile. It got stuck in North Italy because of some heavy snow, so it was a few hours late. It was a great shame. It did eventually arrive, and we were en route to the Vatican, but they closed the main roads down, because it was quite close to the smoke coming out. So we didn't get quite the spectacular entrance we were hoping for. But other than that, it was crazy.
We had four security guards in St. Peter's Square because the people were so excited to see him. It was a huge crush of people trying to get near him. We did maybe a hundred interviews throughout the day, and everyone wanted to speak to him. They wanted to hear about his North Korea trip and his meeting with Kim. It put a smile on everyone's face.
Did the publicity stunt translate into returns on your site?
We've certainly seen a spike in articles around the world. It's created a bit of a buzz, which is nice.
What was Rodman's reaction to the new pope?
I think he was glad it wasn't a European. He thinks they should give another continent a chance. He was excited about Pope Francis. He thinks he's a humble guy—Francis, that is, not Rodman.
Before it's here, it's on the Bloomberg Terminal.
LEARN MORE