M&A News: Boeing, Commerzbank, Sumitomo Mitsui Trust, KKR
Noteworthy expenditures of the week
by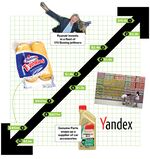 1. Chicago-based Boeing won a jet order for 170 of its 737-model planes from Ryanair Holdings valued at $15.1 billion, say people with knowledge of the deal.
2. Germany's Commerzbank, which received a $23.5 billion bailout in 2009, is selling $3.3 billion of shares to repay the government and insurer Allianz.
3. Japanese bank Sumitomo Mitsui Trust Holdings will buy back 530 million of its own shares from the government for $2.4 billion to complete a bailout repayment plan.
4. KKR is preparing to sell its 50 percent stake in French floormaker Tarkett for $1.9 billion, say five people familiar with the matter.
5. Private equity group CVC Capital Partners and other owners of Matahari Department Store will seek as much as $1.4 billion by selling a 40 percent stake in the Indonesian retailer in a public offering.
6. Belgium's No. 1 bank and insurer KBC Group plans to sell its $1.3 billion stake in Polish lender Bank Zachodni WBK, say two bankers familiar with the matter.
7. Genuine Parts will pay $800 million for the 70 percent it doesn't already own of Exego Group, a distributor of auto parts and supplies in Australasia.
8. Russia's top search engine, Yandex, is offering $607 million worth of stock, as the site's co-founders and shareholders seek to reduce their stakes.
9. Hostess Brands, the bankrupt maker of Wonder bread, says Apollo Global Management and C. Dean Metropoulos will pay $410 million for the majority of its snack business, including Twinkies.
10. The Hollywood home best known for its role in the 1984 slasher film A Nightmare on Elm Street has sold for $2.1 million. Freddy Krueger's haunt reportedly was renovated substantially since it last sold in 2006 for $1.2 million.
Before it's here, it's on the Bloomberg Terminal.
LEARN MORE