How Are the SBA's Loan Programs Doing?
By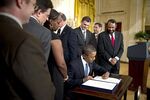 Question: I read your 2011 article about U.S. Small Business Administration loans and wondered what is going on with the SBA loan program for 2013? Are there any new loan programs this year?
Answer: With the news that approval rates for bank loans to small businesses hit two-year highs in February, now is a good time to update the status of the SBA's loan guarantees for small business owners.
While there are no new loan programs in the works this year, Jeanne Hulit, the SBA's associate administrator for capital access, told me that the agency's multiyear effort to expand loan availability and streamline its loan-guarantee approval process continues. So far, government-guaranteed loans have increased 6 percent, year-over-year, in fiscal 2013. That represents $9.2 billion, an 18 percent increase over the dollars approved during the same period a year ago, and is significant because approvals in the last two years have set SBA records.
Those records are largely attributable to provisions of the 2009 American Recovery and Reinvestment Act and the 2010 Small Business Jobs Act, Hulit says. Loan approvals for fiscal 2011, which was the SBA's biggest year ever in terms of dollars, reached $24.5 billion for its two most popular loan programs, 7(a) and 504. In fiscal 2012, the dollar amount in loan approvals for those two programs reached $21.8 billion, the SBA's second-biggest year ever in dollar terms. "The reality is that, on conventional lending, the banks are still reluctant to do smaller dollar loans, under $350,000, for newer businesses that are more reliant on debt and have less of a track record," Hulit says. "They are still relying on SBA to be comfortable with that kind of lending."
Whether loan approvals will continue on pace for another record this year is questionable, however. While Hulit says she does not expect SBA layoffs due to the $85 billion in federal budget cuts imposed by the sequester, it's unknown precisely what effect those cuts will have.
And perhaps more important, a popular provision of the SBA's 504 loan program that helped entrepreneurs refinance owner-occupied real estate expired in September 2012, and Congress did not renew it. That left 400 completed loan applications, representing $500 million in financing, on the table, Hulit says, and meant that only $2.5 billion in loan guarantees was dispersed out of the $15 billion authorized for the program.
Chris Hurn, co-founder and chief executive officer of commercial lender Mercantile Capital Corporation in Orlando, says he made 100 loans last year under the SBA's 504 program to restaurant and hotel owners, day-care providers, and other small business owners, totaling $425 million. That was the biggest loan volume in Mercantile's 10-year history, much of it fueled by entrepreneurs who wanted to take advantage of lower interest rates on their commercial mortgages.
"This was a way for small business owners who survived the worst of the worst in the economy to create some wealth for themselves apart from their business operations, and it was a dramatic monthly payment-lowering device for them," Hurn says. Encouraging small business owners to own business property is an important goal, he says, given data that shows they are less likely to hold diversified retirement assets than their wage-and-salary counterparts.
Hurn says he expects 504 loan volume to drop 25 percent to 30 percent this year without the refinance option. While Senators Mary Landrieu (D-La.) and Jeanne Shaheen (D-N.H.) have proposed legislation to reinstate the refinance loan program for five years, Hurn is not optimistic it will be taken up by Congress this year.
"The program gained wide adoption and didn't cost taxpayers anything" because it was funded by borrower and lender fees, he says. "It would have been an easy thing to extend it for another year or two, but it ran into presidential politics and opposition from the extreme antigovernment folks," Hurn says. He is sympathetic to many smaller government goals himself, but says "it was just embarrassing" that some politicians who opposed extending the refinance program appeared not to understand that it was a public-private partnership, not a government subsidy.
Send us more questions on challenges you face in your business. Journalist Karen E. Klein will interview experts and distill their insights into answers.
Before it's here, it's on the Bloomberg Terminal.
LEARN MORE