business
Despite Payroll Tax Hike, U.S. Consumers Spend More
Paychecks are slimmer. Time to spend more and save less
By and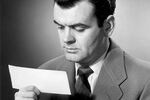 Brent Phipps's employer must reduce spending by $85 billion this fiscal year, thanks to sequestration. As a result of earlier negotiations to avoid the fiscal cliff, government workers like Phipps have seen their payroll taxes go up two percentage points. So why is Phipps, a paralegal for the U.S. Department of Justice, going shopping? Browsing through the aisles of a Target in Washington, Phipps says the payroll tax hike hasn't altered his spending habits. "I didn't really pay any attention to it," he says. "I can't say I had any particular 'Oh no, I'm not going to do X, Y, and Z.' "
Consumers and businesses are treating higher payroll taxes and federal spending cuts as a mere speed bump for the economy. Americans are saving less and spending more for purchases such as new cars as household net worth climbs, with home values rising and stock indexes hitting record highs. "A lot of things are going the right way," says Brian Jones, a senior U.S. economist at Société Générale in New York. "To a certain extent, this neutralizes the effects" of higher taxes.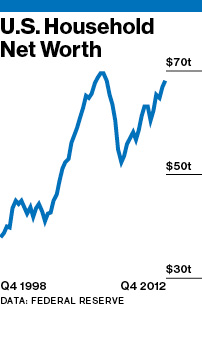 General Motors and Ford Motor predict automobile sales, on pace for their best year since 2007, will remain resilient. "Consumers appear to be taking higher payroll taxes in stride, at least when it comes to replacing older vehicles," Kurt McNeil, vice president of U.S. sales operations for GM, said on a March 1 conference call. Norris Home Furnishings, a Fort Myers (Fla.)-based furniture retailer with three stores, exceeded its goal for 15 percent sales gains in January and February from a year earlier, company owner Larry Norris says. Rising home prices in the region have improved consumer attitudes even in the face of higher taxes. Sales at U.S. retailers rose 1.1 percent in February, the biggest gain in five months.
The sales outlook is encouraging businesses to expand and add workers. U.S. Department of Labor data released on March 8 showed that employers added 236,000 jobs last month after a 119,000 gain in January, and unemployment fell to 7.7 percent, a four-year low. Together with a gain in average hourly earnings and a longer workweek, the latest figures bode well for consumer spending.
At $66.1 trillion, net worth for households is approaching its prerecession peak of $67.4 trillion reached in 2007. The Bloomberg Consumer Comfort Index for the week ending March 10 was at its highest level since April 2012. Ann Lally, an Atlanta digital marketing consultant, says she'll spend a "few thousand dollars" on a weeklong ski vacation to Deer Valley, Utah, in March with her sister and mother. While taxes have gone up, she says, "I've budgeted for it."
"We're holding up better than people thought," says Drew Matus, deputy chief U.S. economist at UBS. He adds that while the economy faces some drags, "never count out the U.S. consumer. Households are doing what they do, which is to spend money." That's part of the reason why "the first half isn't looking awful, and the second half should end better."
Before it's here, it's on the Bloomberg Terminal.
LEARN MORE