Cleveland-Area Companies Sign Anti-Corruption Pledge
Businesses in a bribe-ridden Ohio county promise not to pay off pols
By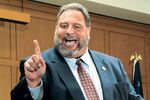 A few years ago, Chris Ronayne didn't even think of doing business with Cuyahoga County. The government in the most populous part of Ohio, which includes Cleveland, was embroiled in a scandal over payoffs to corrupt politicians. "Our credibility as a community was tarnished," says Ronayne, president of University Circle, a nonprofit developer in Cleveland and a former city planner. "We had to change our image." To do that, hundreds of business leaders have adopted a novel approach: They've signed a public pledge vowing not to be corrupt and to expose those who are.
The county started cleaning up in 2008, when dozens of federal agents raided homes and offices of public officials and business owners. Sixty-two people were charged with corruption and 47 were sent to prison or are awaiting sentencing. The biggest targets of the probe were Jimmy Dimora, a Cuyahoga County commissioner and Democratic Party chief, and longtime county auditor Frank Russo. Dimora was sentenced to 28 years in July 2012 after he was convicted of awarding contracts in exchange for more than $166,000 in cash, home improvements, gambling trips, and services from prostitutes. Russo pleaded guilty in 2010 to 21 counts, including taking more than $1 million in bribes to steer no-bid real estate appraisal contracts. He entered prison in November 2012 and could serve 22 years. (Through prison spokesmen, both Dimora and Russo declined requests to be interviewed.)
In the wake of the scandal, voters changed the way the county government operates to make it harder for officials to go on the take. The county had been run by three commissioners with broad powers. A new charter created a single executive who shares authority with an elected council. More than 975 county employees retired, quit, or were fired in an effort to dismantle the "political patronage machine," says County Executive Ed FitzGerald, a former FBI agent elected in 2010.

But putting crooked pols away and spreading power around wasn't enough to rehab Cuyahoga's reputation. To keep the next generation of officials from picking up where Dimora and Russo left off, companies in the county had to stop thinking of bribery and corruption as a normal part of doing business with Cuyahoga. The problem "wasn't just the people who were doing wrong," says U.S. Attorney Steven Dettelbach. "When you have a culture of shakedowns and scams at this level, there's also a culture of silence—where when somebody tries to shake you down, even if you don't go along, you don't say anything. Why? Because you're under the impression this is the way things are done."
Dettelbach joined with the Cleveland Clinic, the county's largest employer, to form the Northeast Ohio Business Ethics Coalition. Since 2010, 907 companies—including Aflac, GlaxoSmithKline, Honeywell, and Otis Elevator—have signed its 262-word pledge. "This organization rejects corruption and unethical conduct in its business affairs and urges others to do the same," it concludes. "We believe that it is important both to speak out against such conduct and to lead by example." All 59 municipalities in the county have joined in with a pledge of their own, signing an agreement not to poach jobs and employers from one another. "There's a sense of relief in the community that the corruption has been eliminated and those responsible for it were held accountable," says former Ohio Governor George Voinovich, who was once Cleveland's mayor. "The crooks are gone."
County leaders are hopeful the changes will help wash away the past and attract new business. "It's very clear that there's a good feeling about how the government is working, certainly on the ethics," says Dave Rowan, the Cleveland Clinic's chief legal officer. Stuart Garson, a Cleveland lawyer who replaced Dimora as county Democratic Party chairman, says he's mindful that "the potential for mischief is always there. But it's so much more difficult now."
Ronayne, the developer who'd given up on seeking contracts with Cuyahoga, is willing to give the government another chance. He's approached the county to help build a new hotel and two other projects, and says that so far he hasn't "had to go through any shenanigans."
BOTTOM LINE -
The bottom line: More than 900 businesses in Cuyahoga County have taken a vow to act ethically—and to expose those who don't.
Before it's here, it's on the Bloomberg Terminal.
LEARN MORE