As Ina Drew Heads to Washington, Senators Ready for Whale Watching
Ina Drew and other current and former JPMorgan executives will testify on the bank's "London Whale" trading losses
By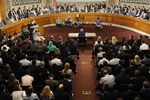 The woman who resigned as head of JPMorgan Chase's "London Whale" unit will testify before the Senate tomorrow, talking publicly for the first time about the trading mistakes that almost a year ago resulted in $6.2 billion in losses and reminded Washington that even the healthiest banks can bungle risk.
Ex-Chief Investment Officer Ina Drew and a slew of other current and former JPMorgan executives will appear before the Senate's permanent subcommittee on investigations, which has been examining the bank's risk procedures for months. The witness list, released on March 13, includes Michael Cavanagh, the co-chief executive officer of JPMorgan's investment bank; Douglas Braunstein, its vice chairman; and U.S. Comptroller of the Currency Thomas Curry. Bank CEO Jamie Dimon won't be there, having already testified before Congress twice about the wrong-way derivatives bets.
In an internal report JPMorgan released in January, Drew, 56, was saddled with much of the blame for what went wrong in JPMorgan's chief investment office. Meant to take responsible risks with the bank's excess cash, the unit instead built up huge positions in credit derivatives, complex instruments that can be difficult to get rid of if the trades start going south. One trader, London-based Bruno Iksil, was dubbed the London Whale for his outsize bets. The imagery helped the story spill into the mainstream press, and reinforced fears that even the most solid Wall Street banks, still within spitting distance of the financial crisis, could let their risk-taking get out of control.
Also testifying: Ashley Bacon, JPMorgan's acting chief risk officer, and Peter Weiland, the former head of market risk in the CIO. Senator Carl Levin, a Democrat from Michigan who is retiring after this term, will lead the questioning.
In addition to the $6.2 billion trading losses that accumulated over months, the embarrassment and scrutiny from Congress and the media helped destroy $51 billion of JPMorgan's market value. Dimon didn't help things on April 13, 2012, when he called the matter a "tempest in a teapot," a characterization he later apologized for. The stock has since recovered, up more than 63 percent since a June 4, 2012, low. Dimon, though, is still paying for it: His 2012 pay was cut in half, to $11.5 million, on Jan. 16.
Before it's here, it's on the Bloomberg Terminal.
LEARN MORE