Spanx vs. Yummie Tummie—in Court
By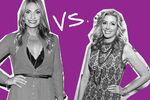 Legal fights in the fashion world can be so entertaining. The judge in the case between Tory Burch and ex-husband Chris Burch likened a possible trial to "a sort of drunken WASP fest." (Alas, the case was quickly settled at the end of 2012.) Last week Macy's Chief Executive Officer Terry Lundgren testified that when Martha Stewart told him over the phone she had done a deal with rival J.C. Penney, he was "literally sick to my stomach. … She said this was going to be good for Macy's. I think that's when I hung up."
Now we've got Sara Blakely, the billionaire founder of "shape wear" brand Spanx, contending with Heather Thomson, who started Yummie Tummie and stars on the The Real Housewives of New York City. The contretemps began earlier this year when Thomson accused Blakely of copying several of her camisoles, which are protected by design patents. She specifically demanded that Blakely stop selling items called Spanx Total Taming Tank and Top This Cami. After some back and forth, Spanx last week filed a complaint (PDF) in an Atlanta court, arguing that her company has not infringed on any of Yummie Tummie's patents and would like a judge to rule on the disagreement.
Although it was Spanx that brought the matter to the courts, Thomson is prepared for a fight. She told Women's Wear Daily: "I hope [Spanx] is ready for war because I will not lie down." Neither Thomson nor Blakely responded immediately to a request for comment. Spanx did send a statement to WWD that said: "Spanx was making shaping camisoles long before Yummie Tummie." Blakely started Spanx in 2000; Thomson launched her line in 2008. The earliest of Thomson's camisole patents date from 2009.
One other interesting note: This is a dispute about design patents, not trademarks or logos; Lululemon's fight with Calvin Klein, as well as Apple vs. and Samsung Electronics, have been over design patents. (Lululemon and Calvin Klein, by the way, reached a confidential settlement.) This is not Yummie Tummie's first legal fight, either. In 2011, it settled a case out of court with Maidenform over tank tops, with Maidenform  paying $6.75 million to Yummie Tummie. With this new shape wear case showing promising signs of juicy testimony, let's hope it doesn't head straight into arbitration.