Grillo Tells Handelsblatt Italy 'Out of Euro' And May Be Dropped
Lorenzo Totaro and Patrick Donahue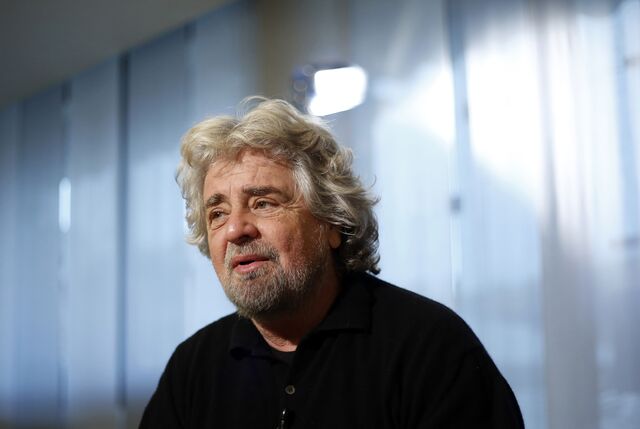 Italy is "already de facto" outside the euro and runs the risk of being "dropped" by the region's wealthiest members as soon as their banks recoup what they invested in the nation's bonds, Germany's Handelsblatt cited comic-turned-politician Beppe Grillo as saying.
"Italy is de facto outside the euro already," Grillo, whose anti-austerity Five Star Movement got 25 percent of the vote in elections last month, said in an interview published today in Handelsblatt newspaper. "The northern European states will back us only until they have recouped the investments of their banks in Italy's sovereign bonds. Then they will drop us like a hot potato."
No one from Grillo's party was immediately available to confirm the remarks.
Fitch Ratings cut Italy's credit rating by one level last week as the inconclusive vote led to a gridlock that threatens the country's ability to deal with the debt crisis.
Outgoing Prime Minister Mario Monti helped calm the European debt crisis by taming Italy's budget deficit and raising the tax burden to shore up finances. Italy's bonds also benefited from the European Central Bank's commitment to save the euro and aid countries in financial distress.
It's not the first time Grillo has publicly questioned his country's ability to remain in the euro region. Italians should consider holding a referendum on the euro membership amid rising public debt and no signs of economic recovery, he said in a May interview with Bloomberg News.
"I don't decide such things on my own," Handelsblatt cited Grillo as saying in the interview when asked about whether Italy should abandon the single currency. "I would hold an online referendum on the euro."
Under Monti and prior to the vote, Italy's 10-year bond yield had fallen by almost half from a euro-era record 7.5 percent in November 2011. Italian 10-year bonds rose 6 basis points to 4.67 percent as of 11:30 a.m. in Rome as borrowing costs rose at an auction of bonds held by the Rome-based Treasury today.
Before it's here, it's on the Bloomberg Terminal.
LEARN MORE