business
Even With a Female Dean, Most MBAs Are Still Men
Louis Lavelle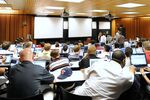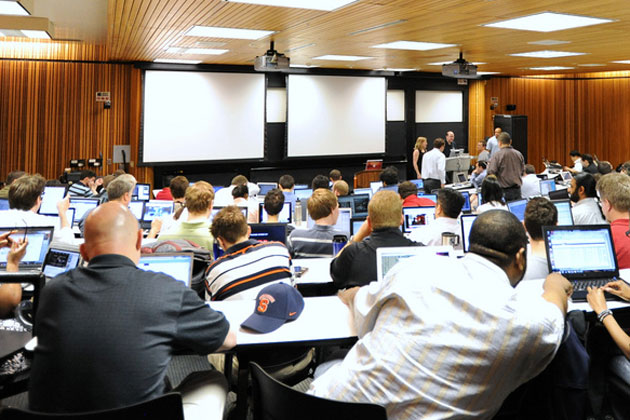 Female business school deans have been in the news these last few years, with Alison Davis-Blake taking the helm at the University of Michigan's Ross School of Business, Sri Zaheer replacing her at the University of Minnesota Carlson School of Management, and Amy Hillman becoming the first female dean at Arizona State's Carey School of Business. Has the increase in female business school deans resulted in significantly greater female representation among MBA students? A new study suggests it hasn't.
Research from the Association to Advance Collegiate Schools of Business (AACSB), compared male/female enrollment at business schools run by men and those run by women. For MBA programs, female enrollment at schools with female deans was 38.6 percent, compared to 35.3 percent at those run by men. At executive MBA programs and undergraduate business programs, female deans actually had lower female enrollment than male deans: 24.2 percent for EMBA programs (vs. 29.9 percent for male deans) and 40.7 percent for undergraduate programs (vs. 42.2 percent for male deans).
Seventy-nine AACSB-accredited business schools, about 18 percent, have female deans—eight more than five years ago. The argument has been made that a woman at the helm of a business school acts as a welcome sign to female applicants, one that should, over time, change the gender mix among students. "When you're dealing with any underrepresented group, they want to see role models for themselves in the organizations they walk into," says Sarah Gardial, dean of the Tippie College of Business at the University of Iowa. "The more we can make that happen, the more we'll be able to attract diversity. All other things being equal, who's at the helm is important."
Judy Olian, who has been dean of UCLA's Anderson School of Management since 2006, agrees. "Everyone, including women and under-represented minorities, looks for people like themselves, to whom they can aspire," she said. "So I'd expect schools with more female faculty and senior administrators, [including] a female dean, to feel more welcoming to women."
A number of business schools with women at the helm have female enrollment in their full-time MBA programs that's below average, according to data supplied by the schools to Bloomberg Businessweek. Anderson has female enrollment of 33 percent. At Ross, 30 percent of MBA students are women. At Carlson, which has had a female dean since 2006, the figure is 25 percent.
But those numbers may understate the interest among female applicants in programs run by women. Carlson's Zaheer notes that under a male dean from 2003 to 2005, women made up 23 to 26 percent of the school's applicant pool, but under two female deans from 2006 on, they've averaged about 33 percent.
"We're still only about a third of female applicants," Zaheer says, adding that higher GMAT scores of the last few years may be discouraging some female applicants, who typically have lower scores. "I'd love to see that number go up."
As for her program's 25 percent female enrollment, Zaheer says the number fell because of the school's focus on recruiting returning military veterans. Last year, it admitted seven—all male—as part of an incoming class of 107.
Join the discussion on the Bloomberg Businessweek Business School Forum, visit us on Facebook, and follow @BWbschools on Twitter.
Before it's here, it's on the Bloomberg Terminal.
LEARN MORE