Don't Like Your Seat? Baseball Fans Can Now Upgrade, Mid-Game
by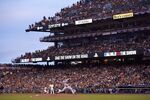 It used to be one of the perennial joys of going to the ballpark. You find your seats in the nosebleed rows above right field, wait patiently for a few innings, then scope out some unused seats in the pricier sections below and sneak down when the ushers have left their posts.
Well, you can pretty much forget about that now.

As the 2013 baseball season approaches, MLB Advanced Media—the Internet arm of Major League Baseball—and Experience, an Atlanta-based technology company, are rolling out a new seat-upgrade feature within baseball's applications for the iPhone and Android phones. It's pretty much exactly what it sounds like: Teams will let fans use their smartphones in the middle of games to pay to upgrade their seats, earn rewards, or access different parts of the stadium. Then fans will get a new ticket on their smartphone, which those pesky ushers will scan before anyone is allowed to play musical chairs.
Mobile Seat Upgrades, as they're called, just might revolutionize the act of going to the ballpark. Teams can unlock new streams of revenue while fans will be able to impulsively swap seats, flee the sun for the shade, or buy access to VIP areas. "People will start to think, 'I'm there for three and a half hours, I can move around a little bit. I can go to the Bud deck after the fourth inning, or I can go to the VIP lounge,'" says Bob Bowman, chief executive officer of MLB Advanced Media. "The smart clubs will allow customers not only to upgrade the experience but to vary it."
The service will roll out around Opening Day in Arizona, Minnesota, Oakland, and Atlanta, and then quickly expand to another 12 clubs by the end of April. The Braves tested the service last year at Turner Field, charging fans $5 to $55 to swap seats, for an average upgrade price of $16. This year, teams will also be able to get creative and basically sell some seats twice. For example, if a season ticket holder signals that he isn't going to show up, his seats might be resold during the fourth inning. What the ticket holder gets out of that would be up to the club. "Everything you are talking about is found revenue," says Tripp Rackley, CEO of Experience. "The doors are shut. These are not seats you are going to sell any longer."
Rackley says the service is all about allowing clubs to create a new kind of connection with fans. In some stadiums, parents with kids will have opportunities to move to sections where the mascot is likely to show up, for example. Business groups can jump at a last-minute opening on the VIP level. It will be up to each club to set its own rules. (Boston, for example, might have to get creative, since Fenway Park typically sells out.) Rackley says the two-year-old company has tried this with both professional and college basketball. But baseball, with its lengthy interregnums, is the perfect sport. "We know everyone always wants to have a better seat," he says. "No one had tried it on scale before."
For his part, Bob Bowman acknowledges there is some nostalgia associated with finding better seats during games—for free—but says that is now an outdated notion. "I think you're harkening back to a slightly different day," he says. "No matter what system you put in place, there will be people who do things like that. But increasingly in these stadiums that have opened in the last 15 years, you need to have tickets to get in there. This really isn't for kids trying to sneak in on their own."
Before it's here, it's on the Bloomberg Terminal.
LEARN MORE