Does Small Business Tax Reform Overlook Small Business?
by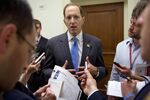 When House Ways and Means Committee Chairman Dave Camp released a draft small business tax reform yesterday, the Republican congressman boasted that the bill contained proposals from both sides of the aisle. And indeed, some of the provisions in Camp's bill—described as a "discussion draft" and intended as a stepping stone to a final law—were the types of proposals most any small business advocate could get behind.
The proposed law would expand deductions for startup costs, make permanent temporary rules that allow small businesses to expense purchases of equipment and property, and ease the burden of tax compliance by adjusting filing dates and letting businesses with $10 million or less in gross receipts use the cash method of accounting.
But the most ambitious part of the draft—an attempt to reform rules governing so-called pass-through provisions—was notable for another reason: The proposed revisions aren't necessarily aimed at the types of companies most people think of as small businesses.
A little background: If you're a small business owner, you're probably familiar with pass-throughs. These are businesses structured as sole proprietorships, partnerships, limited liability companies, and S corporations that pass the company's income onto their owners' personal tax returns. They simplify the tax process and spare entrepreneurs from double taxation.
Of course, small business owners are not the only ones who take advantage of the structure. An Ernst & Young study (pdf) commissioned by the S Corporation Association in 2011 reported that nearly 95 percent of U.S. business entities, including large law firms and and hedge funds, are structured as pass-throughs.
Getting back to Camp's bill, the draft legislation offered two options for reforming pass-through rules. The first would tweak the current law, while the second would repeal existing pass-through provisions and replace them with simplified rules pertaining to all non-publicly traded companies. In each case, Camp said in a fact sheet (pdf) released along with the draft bill, pass-through reform would make it more difficult for businesses to use the provision as a tax-avoidance tool.
That sounds like a good thing. But it seems odd that the biggest news in a small business tax reform bill seems targeted at policing companies that we don't typically think of as small businesses. Dean Zerbe, a managing director at tax service provider Alliantgroup and a former tax counsel to the Senate Finance Committee, also noticed the dearth of initiatives affecting traditional small businesses in the draft bill.
Camp's description of pass-through reform, Zerbe writes in a column at Forbes, "… talks a good deal about the benefits of a unified pass-thru rule for anti-abuse and dealing with tax evasion and mischief. All for it—but it feels a little like all cod liver oil and no cake. Where is the benefit of all this in terms of not just simplification but lower tax rates (if we are raising money from all these anti-abuse provisions—where's the love to business owners in the form of getting to send less money to the taxman?)."
Pass-through reform may help simplify the filing process for small businesses, and as Camp told reporters, the draft bill is intended as a starting point, not an "end-all, be-all." National Federation of Independent Business tax counsel Chris Whitcomb, meanwhile, says not to sniff at the equipment deductions or cash-accounting rule proposed by the bill. "Those are tax provisions that small businesses really like," he says.
Before it's here, it's on the Bloomberg Terminal.
LEARN MORE