Dealing With Failure in the MBA Job Search
Roxanne Hori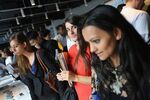 For many students, career success came easily before they came to business school, so these students may arrive on campus with high expectations about their job prospects. But the job search process is not for the faint of heart.
As fall makes the transition into winter, the realities of the job search begin to set in. Students start to get a sense of how they stack up against their classmates. Then interviewing begins, and companies that were "courting" students switch to an evaluative mode. During the pre-interview gatherings, as well as inthe interviews, students have to be on their game.
During this time, some students find that they have less success than expected in the on-campus interviewing process. Let me assure you that this happens every year: Many terrific students are still looking for internships after they return from spring break. Every year, those students usually find great summer jobs.
So what's the secret? I attribute it to students no longer following the herd. I also believe that MBAs have an ability to be resilient. Once you return to the work world, resilience is what will get you through those tough days on the job. If you don't have the ability to bounce back, you will have a tough time succeeding on the job.
Over the weekend, I attended a dinner for a community organization that provides housing for people in transition. One of the residents who had led a very challenging life told the audience that the one thing he has learned through all his hardships is: "It's not how you fall; it's how you get back up."

How does this apply to you? As you go through the search process, you will stumble and fall. So often we focus on how and why we aren't successful, and we fall into the trap of delaying getting back up. It's reasonable to spend some time thinking about why an interview didn't convert to an offer. But it's not a good idea to dwell on that too much. Instead you need to be resilient, pick yourself up, and move forward.
You were selected for your MBA program because the admissions team members saw potential in you. They believed that you had the resilience necessary to be successful. As you continue your internship or full-time job search, remember to keep looking ahead for opportunity. Try not to dwell on what has happened to you; focus on what you can do to make opportunities happen for you.
Join the discussion on the Bloomberg Businessweek Business School Forum, visit us on Facebook, and follow @BWbschools on Twitter.
Before it's here, it's on the Bloomberg Terminal.
LEARN MORE