Android Chief Andy Rubin Breaks Up With the Green Robot
by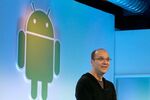 An era at Google is ending. Andy Rubin, who led the company's Android division in a fierce rivalry with Apple, is stepping aside to pursue other opportunities at the company, according to a blog post today by Google Chief Executive Officer Larry Page. Sundar Pichai, a senior vice president in charge of the Chrome browser and operating system, will take his place.
Rubin's accomplishments since he joined Google in 2004, when it acquired his startup, also called Android, are difficult to overstate. When Apple unveiled the iPhone in 2007, its runaway success threatened to give Steve Jobs an insurmountable lead in the race to dominate the next generation of mobile computing. Rubin's approach mirrored Microsoft's tactics in the early 90′s, when it overtook Apple to dominate the personal computer industry. His operating system for mobile phones was open and available for partners such as Samsung Electronics, HTC, and Motorola, which used it to create functional (if less visually striking) alternatives to the iPhone. The strategy resulted in a blaze of patent lawsuits, but it worked spectacularly. Last year, three out of every four smartphones around the world ran the software, according to IDC.
Rubin "believed that aligning standards around an open-source operating system would drive innovation across the mobile industry," Page wrote in his post. "Most people thought he was nuts. But his insight immediately struck a chord because at the time it was extremely painful developing services for mobile devices. We had a closet full of more than 100 phones and were building our software pretty much device-by-device. It was nearly impossible for us to make truly great mobile experiences."
While Android software is free, the strategy has paid innumerable benefits for Google. It has secured the dominance of its search engine for the next era of computing and built a fledgling advertising business atop Android on mobile devices. And with its $12.5 billion acquisition of Motorola, which closed last year, Google now has the opportunity to custom-design mobile phones and tablets around the operating system.
What's next for Rubin? Google isn't saying, but says he is staying at the company. He's an inveterate hardware hacker and roboticist, so it's a good bet he'll end up over at the Google X research division, which is working on self-driving cars and Google Glass and who knows what else. "Andy's decided it's time to hand over the reins and start a new chapter at Google," Page wrote. "Andy, more moonshots please!"
Before it's here, it's on the Bloomberg Terminal.
LEARN MORE