What White and Cordray Will Face in Their Confirmation Hearings
By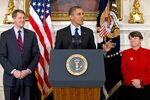 As far as Senate confirmation hearings go, today's double feature should be plenty feisty. The Senate banking committee is set to grill two of President Obama's nominees for key posts: Mary Jo White, who's up to head the Securities and Exchange Commission, and Richard Cordray, who's looking for a permanent appointment as the director of the Consumer Financial Protection Bureau. Here are a few issues you can expect to see raised:
1) Watchdog or lapdog? White will surely face questions over which part of her past will dominate her approach to heading up the SEC—will it be White, the tough-as-nails former prosecutor, or White, the corporate lawyer who has been wary of overzealous Wall Street prosecutions?
2) Potential conflicts of interest. White will also likely be asked about how she will be able to head the agency when she'll need to recuse herself over some issues involving long list of banks that have been her clients in the past.
3) Cordray's recess appointment. Senate Republicans will likely challenge whether Cordray's previous appointment—made during a brief Congressional recess—was legal. The CFPB's rulemaking and enforcement powers hinged on the bureau having a director, and this line of questioning has picked up since late January, when a federal appeals court ruled that two other recess appointments Obama made the same day as Cordray's weren't valid.
4) The structure of the CFPB. As established under the Dodd-Frank financial reform bill (which, yes, Congress passed less than three years ago), the CFPB is headed by one appointed director and has an independent, guaranteed funding stream paid for by a fixed percentage of the Federal Reserve's budget. Forty-three Senate Republicans have threatened to block Cordray's nomination unless that structure is changed. Among other things, they want a five-person commission to run the agency, and they want it to be subject to the congressional appropriations process. Both would weaken the independence of the agency and make it more beholden to Congress.
One thing you probably won't see: direct challenges to Cordray personally. As I've reported, the CFPB has had a big impact even though it has been operational for only about a year, and the financial industry generally thinks Cordray is a fair leader who genuinely listens to their positions and adapts the agency's rules to be reasonable. As a regulator, Cordray hasn't proved to be very controversial.
After the public hearing, the committee members will vote on whether they should send the nominations to the Senate floor—where a broader group will get to mull White's and Cordray's answers to these and other questions.
Before it's here, it's on the Bloomberg Terminal.
LEARN MORE