business
Q&A: Arizona State B-School Dean Amy Hillman
By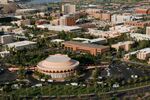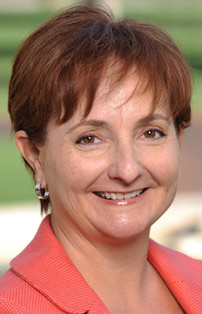 Arizona State University's Amy Hillman took over as dean of the Carey School of Business this month. She is the school's first female dean, having replaced Robert Mittelstaedt, who took the job in 2004 after serving as vice dean of the University of Pennsylvania's Wharton School. Bloomberg Businessweek's Erin Zlomek talked to Hillman about ASU's decision to roll out three new business masters degrees over the past year, as well as other projects the new dean will soon leave her mark on. What follows are edited excerpts of their conversation.
You got your MBA through a nights-and-weekends program, which is different from many other business school deans. Does that change your approach at all?
I think it does. I was very much a working professional when I got my MBA, and I did it because I needed those day-to-day skills as a manager. When I first came to ASU, I was teaching in our evening program. Not only did that give me empathy for what it's like to work an eight-hour day and then do four hours of class, but it gave me a strong understanding that we need to teach the practical skills that students will need on the job—whether its in two years for those in the full-time program, or the very next morning for those in the evening program.
ASU has introduced three one-year business masters degrees over the past year or so. Do you expect to continue down this road?
I don't think we're going to add any more. We added a masters in business analytics because our corporate partners were telling us that they needed more employees who were capable of making decisions around big data.
It was the same for our masters in supply chain management and engineering. Our corporate partners were saying that engineers were not well integrated with the supply chain management professionals. That degree is meant to get those two functions more aligned. Half of the curriculum is from supply chain management and half of it is from industrial engineering.
This year we also launched a masters of science in management, which was student-driven. We were seeing more demand in a tough economy for business training, on top of whatever a student's passion was as an undergrad.
What is one of your first priorities?
The first is to broaden our corporate partnerships. Everything we do in the business school world is informed by the needs of business. We are trying to embed ourselves with our existing partners and extend that reach.
A second is to develop lifelong relationships with our alumni, whether it's through continuing education or social networking.
What is the first major project you will oversee?
We are revamping our corporate relationships strategy right now. This includes our corporate Web presence and how we engage with corporations out in the community. We've put some new resources behind the student projects we do for companies right now. We've also developed a corporate relationship team internal to the school.
We're also taking our executive in residence program and pushing it more toward a model where we have executives mentor students and do leadership coaching. We want these executives to have more of a presence in the lives of our MBAs.
Join the discussion on the Bloomberg Businessweek Business School Forum, visit us on Facebook, and follow @BWbschools on Twitter.
Before it's here, it's on the Bloomberg Terminal.
LEARN MORE