After 'Fifty Shades of Grey,' E.L. James's Next Book Is a 'Writer's Journal'
By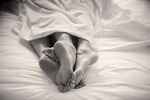 E.L. James is writing a how-to book. No, not that kind of how-to book.
The author of the best-selling Fifty Shades of Grey series is writing a guide to help women find their "inner goddess," a phrase that regularly appears in her writing as a short-hand reference to her protagonist's devil-may-care desire to get it on. James didn't make it up, of course; dozens of books are for sale on Amazon with such titles as Find Your Inner Goddess, Listen to Your Inner Goddess, Sex & the Inner Goddess, and Inner Goddess Manifesto. Even Gillette pitched its first five-blade women's razor by urging women to "reveal the goddess in you."
James's Shades of Grey: Inner Goddess, which will come out on May 1, is being billed as a "writer's journal." She reportedly wrote the forward, shared some excerpts from her Fifty Shades series, and provided a music playlist that she listened to while writing. (Please tell me there's some Barry White.) The book will also have blank pages on which women can brainstorm ideas for their own books.
"Her personal story as a writer is inspirational to many women, and journaling has been an important part of her creative process from the start," Vintage publisher Anne Messitte said in a statement when the deal was announced on Monday. For the subtlety-challenged, it's a pitch that suggests that a 1,500-page best-selling series could happen to anyone with a diary.
Maybe. Fifty Shades of Grey started out as Internet fan fiction and was originally published by a small Australian press before Vintage snapped it up for $1 million in March 2012. Since then, the series has gone on to sell more than 65 million copies worldwide. James has millions of fans (women, mostly) and commands large audiences when she appears at speaking events. When the author appeared at an event at IET London last year, she received a standing ovation. Still, even the most flattering descriptions of the Fifty Shades of Grey phenomenon contain backhanded compliments about James's ability to turn cliché-laden prose about sex romps into the greatest literary success story of 2012. Even when Publisher's Weekly named her "Publishing Person of the Year," it couldn't resist noting that some in the book industry consider James "a harbinger of death."
Despite the snide comments, the pen-and-ink set know all too well that the book business is democratizing. E.L. James is Exhibit A: The new system is clearly working for her inner goddess—and for her inner accountant.
Before it's here, it's on the Bloomberg Terminal.
LEARN MORE