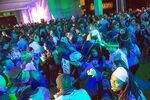 It's Day Four at Austin's South by Southwest technology and music festival, and the conference has already included several heavy-hitting panel discussions, events and parties. Check out the slideshow at right to see all the great activities hitting town. Then read all Business Journal coverage of SXSW, including stories from our sister papers across the United States. Also, think SXSW is a waste of time or a must attend? Let us know in the poll question, below.
—Shana Lynch, "Behind the Scenes at SXSW," Silicon Valley Business Journal, March 11, 2013
Must-attend or waste of time?
I am not qualified to answer this trenchant question, a question that grips the nation.
If 100,000+ flannel-shirted descend on Austin, Tex., for a tech-a-thon slash job fair, is there value? Are SXSW-Man and SXSW-Woman wasting time and money?
I turn to Social Katy.
Social is attending the festivities, has darkened the doors of seven panels … Acquiring the Skill of Meta-Learning and UK 101: How to Break Your Band in the UK … has a curfew way too abrupt for any parties, and has a swag suitcase that will tilt the Boeing 737 upon her return to the real world.
Which reminds me of another "heavy hitting" idiocy.
I wrote earlier this year—and took significant heat—for suggesting that the only value to the annual January meet-and-greet in a small village in Switzerland was the ginormous number of smart people in one spot at one time. (Cue helicopter sounds.)
South by Southwest is no different. (Cue Gulfstream sounds). It is a staged event that brings engaged smart people to one spot. That is a big deal in a rushed world.
If Social comes away with one killer idea, it makes the soirée worth it. Hopefully, she'll avoid the Piano Bar. (Social! The fossil band is called Asleep at the Wheel. See Ray's new movie at the SXSW Extravaganza. They were the Mumford & Sons of a few years ago.)
I vote Must-Attend. It's South by South Davos. Discuss.
Before it's here, it's on the Bloomberg Terminal.
LEARN MORE