In Soda-Ban Battle, Starbucks Beats Mayor Bloomberg
By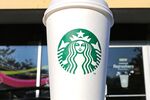 New York Mayor Michael Bloomberg seemed confident that limiting the sale of sugary drinks larger than 16 ounces would be good for city residents'  health and that such a ban could be adopted nationwide. That was on Sunday. On Monday, a state judge blocked the rule, just a day before it was supposed to go into effect. The challenge was brought by the American Beverage Association (otherwise known as Big Soda) and others. The judge called the rule arbitrary and capricious. "The loopholes in this rule effectively defeat the stated purpose," New York Supreme Court Justice Milton Tingling wrote.
Many smaller businesses, as well as McDonald's and Dunkin' Donuts, had been prepared to follow the new restrictions. Not Starbucks, though.
The company, which was not part of the lawsuit, made it clear last week that amid confusion and uncertainty surrounding the new rule, it wasn't making any immediate menu changes. A spokeswoman said that many of Starbucks's milky and custom-made drinks might be exempt. The lawsuit was already underway. There would be a three-month grace period before the city would impose fines. Why rush?
When Bloomberg (who is founder and majority owner of Bloomberg Businessweek parent Bloomberg LP) was asked about this on Sunday's Face the Nation, he said: "No. 1, that's ridiculous. They can figure out—Starbucks knows how to market things, knows how to package things. They can change instantly when it's in their interest to do so. This is in the country's interest."
The most recent official word comes from Michael Cardozo, corporation counsel of New York City's law department: "We plan to appeal the decision as soon as possible, and we are confident the Board of Health's decision will ultimately be upheld." Starbucks didn't immediately respond with a comment.
Before it's here, it's on the Bloomberg Terminal.
LEARN MORE