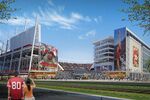 The San Francisco 49ers announced yesterday that "Stadium Builders Licenses" are selling briskly for the team's new venue in nearby Santa Clara, Calif. Season-ticket holders have already signed up to pay a combined $400 million just for the right to buy tickets. These contracts, widely known as personal seat licenses (PSL), have been a staple of new-stadium financing in the National Football League for the past 20 years. For the right to purchase tickets every season, buyers pay a one-time fee, which the 49ers are using to help fund a $1.2 billion stadium that's scheduled to open in 2014. The team says it has already sold 75 percent of its inventory, including all of the top-end $80,000 licenses. (Access to the "cheap" seats goes for $2,000.)
The good news is that the city of Santa Clara will use the money to pay down the debt it has incurred from the stadium costs. The city took out a $450 million loan via its newly created stadium authority to pay for the construction, using the seat license revenue as the main collateral. That debt comes due in 2015. Any shortfall, as Field of Schemes co-author Neil deMause explains here, would likely require a new round of bond sales.
The bad news, at least on the federal level, is that this arrangement is a dodge that results in hundreds of millions in lost tax revenue. New Orleans's Times-Picayune in 2002 laid out the mechanics of this system. When the Carolina Panthers sold the first PSLs in 1993, the team had to pay a $50 million federal tax bill on $160 million. That didn't sit will with NFL owners, who came up with the idea of having a government entity sell the licenses and own the venue. (In Santa Clara, the stadium authority contracted with a company called Legends to broker the sales. The team will pay about $30 million in annual rent to the stadium authority.) Figuring on a federal tax rate between 30 percent and 35 percent on the $400 million in revenue, the 49ers stand to save from $120 million to $140 million. It's a very elegant play. Fans come up with a half a billion dollars that the team never touches to pay for a new stadium it will use to boost revenue with luxury boxes and higher ticket prices.
Before it's here, it's on the Bloomberg Terminal.
LEARN MORE