GE's Board Needs More Fixing, Despite Adding Schapiro
by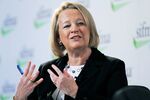 General Electric has nominated former Securities and Exchange Commission Chairman Mary Schapiro to its board—a terrific choice for a company dealing with complex regulations worldwide. The question is whether the right directors are stepping off. In its March 11 proxy filing, the company said Alan G. Lafley, Sam Nunn, and Roger Penske won't stand for reelection at the April 24 annual meeting in New Orleans. That leaves GE with a 17-member board that's better but could still be improved.
Schapiro brings much-needed regulatory and governance expertise to a company that has been under pressure to improve its board. At 19 members, GE's board is almost twice the size of comparable boards. While GE has said that reflects the breadth and complexity of its global operations, larger boards can often be less effective in making decisions. The argument also doesn't hold up on an individual level, where the company continues to have too many familiar faces on the board even as its business mix has radically changed. The directors' average tenure of 9.9 years is longer than average, and several of them serve on multiple boards. As GE's chairman and chief executive, Jeffrey Immelt has come under criticism from governance experts who say splitting the role leads to greater board independence.
Investors are right to ask if everyone on the current election slate is truly at the top of his or her game. Are they likely to be a real asset to Immelt in forging strategy? Are they tapped into the zeitgeist of where business is going? Beyond reproach in defending the rights of shareholders?
Start with Andrea Jung and Ann Fudge. Shareholders set to vote on a proposal that would bar independent directors elected between 1998 and 2012 from running again after 15 years. GE tried to block that plan, casting it as an attempt to get Jung and Fudge off the board in violation of SEC rules. The SEC disagreed and said the company has to go ahead with the vote.
It's hard to argue that the tenure of both women shouldn't at least be under review. Fudge currently serves on half a dozen other boards, including Infosys, Unilever, and Novartis. And that doesn't include nonpublic boards, such as Morehouse College, the Rockefeller Foundation, and the Brookings Institution. Although she hasn't had executive obligations since leaving the CEO job at Young & Rubicam in 2006, Fudge clearly has a lot to juggle. She's one of several GE directors who've been singled out by GMI Ratings as "over-boarded," according to Lev Janashvili, a managing director at the corporate-governance researcher. "It's not rocket science," says Janashvili. "If you're on three or more public company boards, investors should question whether you have enough time to dedicate to each one."
Jung, meanwhile, comes with other complications—most notably the fact that she stepped down as chairman and CEO of Avon last year amid declining sales and a foreign bribery investigation. That includes an SEC investigation into whether Jung and her team improperly shared information with analysts, which it decided in September did not warrant any enforcement action. Imagine the awkward moment with Schapiro, had the commission reached a different conclusion. But bandwidth is a question here, too. Jung is on the board of Apple, another complex and high-profile public company, where she chairs the compensation committee. She has also been nominated to the board of Daimler.
One surprise is the news that former Procter & Gamble chief Lafley is stepping down after a decade on the board. That deprives GE of a powerful innovator in the consumer market as it's trying to boost its appliance business at home. Penske and Nunn were expected to go, as both are over age 70 and have been on the board for more than 19 years and 16 years, respectively. (The longest serving is 66-year-old Sandy Warner at more than 21 years. Ralph Larsen, 74, is also sticking around.)
The bigger question is whether GE now has a board that will truly help its leaders look around corners and deal with new competitive threats. It's moving in that direction with the recent additions of Bayer chief Marijn Dekkers, former Vanguard CEO John Brennan, and Francisco D'Souza of Cognizant Technology Solutions. At 44, the Kenya-born D'Souza became GE's youngest director when he joined last month. He likely brings the kind of expertise and perspective that any global executive would welcome.
Schapiro should add real value to the mix. To start, there are the insights and expertise gleaned from regulating U.S. markets amid the financial crisis. Immelt himself praised Schapiro's "understanding of corporate governance and financial regulation." She's also intimately familiar with the sentiment and trends around executive pay, another hot topic for GE investors, who've pined for the heady stock prices of the late 1990s. Immelt received total compensation of $25.8 million in 2012, a 20 percent jump over 2011. While the stock has been mixed under Immelt, he has managed to excite investors with such moves as stock buybacks and smart investments in areas from alternative energies and health care to 3D printing.
With Schapiro and other recent appointments, Immelt has added better governance to that list, too. The question is whether he'll settle for much improved or aim for a board that's truly best in class.
Before it's here, it's on the Bloomberg Terminal.
LEARN MORE