The Missed Airbnb Investment, Now Worth $250 Million
By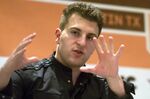 Airbnb Chief Executive Officer Brian Chesky still crashes on couches. The difference is that now, Chesky, the co-founder of the service that lets people rent out rooms and homes online, doesn't have to.
Before the 6-year-old company took off, Chesky was so desperate for money that he was offering a 10 percent stake in Airbnb for $100,000. Everybody passed. One investor walked out of a pitch meeting at a restaurant, leaving behind a half-finished smoothie on the table, Chesky recalled on stage at the South by Southwest Interactive conference today in Austin, Texas.
Today, that investment would be worth about $250 million.
During those dark days, Chesky kept a binder full of credit cards to manage the growing debt he had accumulated to build the company. But eventually, investors came calling. Peter Thiel, one of Facebook's earliest backers, led a round of financing of about $150 million in Airbnb, valuing the San Francisco-based company at about $2.5 billion, Bloomberg News reported in October.
The site is now being used by about 50,000 to 60,000 people a night, Chesky said. Last June, Airbnb was booking 38,000 a night. For the SXSW festival, which began on March 8, about 8,000 people booked accommodations in Austin through the site, out of 28,000 people expected to attend the tech convention, according to Adweek.
Airbnb also has helped spawn the so-called sharing economy, where people offer services directly to one another through online hubs. With TaskRabbit, for instance, people will perform chores for a fee. Other services, like Getaround, allow people to rent out their cars by the hour. "The sharing economy could replace a huge part of the existing economy," Chesky said.
One challenge that Airbnb and its sharing buddies face is from local regulators. Tax and safety rules are less clear when it comes to the new breed of Internet startups. While Airbnb facilitates room rental transactions through its website and takes a commission, the company says it should not be responsible for collecting hotel tax.
Even though his fortunes have changed, Chesky said he doesn't have a home and instead stays in apartments booked through Airbnb. He said he doesn't want the company to become like a musician who grows popular and can no longer relate to the audience.
"That is the point that they become irrelevant," he said. "I still live on the site. It's a big statement to say the CEO doesn't have a home and lives off the website."