Think Twice About Opening a Moving Company in Kentucky
By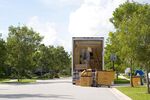 Regulations governing taxis and limousines have captivated tech-watchers in recent months, as startups such as Uber fought legal battles, from New York to San Francisco, to make it possible to hail a cab via a smartphone app.
Less closely followed: recent attempts in Kentucky to upend rules that limit competition in the moving business.
In August, Marty Vaughn tried to open a College Hunks Moving franchise in Lexington, Ky. She learned that state law first required her to obtain something called a Certificate of Public Convenience and Necessity. To do that, Vaughn had to run a series of ads in local newspapers announcing her intention to go into business.
The month after Vaughn began running ads, seven Lexington moving companies filed a protest letter with the state, arguing that Vaughn should be denied a license. Their reasoning, according to the letter: "The authority sought by the applicant in this proceeding is directly competitive with that held by these protestants and will result in a diminution of protestant's revenues."
In plainer English, the existing moving companies didn't want another competitor, and for the moment, that was enough to prevent Vaughn from opening shop. She hired a lawyer to try her case, but six months after her competitors filed their letter of protest, she says she still hasn't had a hearing on the matter. That may not be surprising. According to the National Federation of Independent Business, it takes Kentucky moving companies a year to complete the licensing process under the best of circumstances, and only five new licenses have been granted since 2007.
"I'm holding out hope," Vaughn says. "But I'm not very optimistic."
If Vaughn is frustrated, she isn't alone. The same month that Vaughn first applied for her moving license, a Kentucky company called Wildcat Moving sued (pdf) the state in federal court, arguing that the Certificate of Public Convenience and Necessity law violated the due process and equal protection clauses of the 14th Amendment.
"There's probably a sweet and kind fantasy world in which you'd ask the existing companies who's good, and who's not, and you get their input before you hand out a new license," says Tim Sandefur, the lawyer representing Wildcat Moving. "What really happens is that existing companies use it to protect their turf."
Sandefur, who works for the free-market advocacy group Pacific Legal Foundation, knows his way around certificate of necessity cases. In 2008, Sandefur sued the state of Oregon on behalf of a Portland moving company, pursuing the case until the state repealed its certificate of necessity law the following year. In 2010, he parachuted into Missouri to try a similar case, and the legislature did away with the licensing law. In addition to the Wildcat Moving case in Kentucky, Sandefur is currently representing a moving company in Nevada.
According to Sandefur, state certificate of necessity laws are a relic of the early 20th century, when governments used the laws as an incentive for private investment in public utilities. To entice companies to enter the streetcar business, governments restricted entry for competing transportation companies.
"Who wouldn't stop their competitors from doing business, if given the chance," he says. "If Starbucks could make Dunkin' Donuts illegal, wouldn't they?"
In Kentucky, Sandefur's case survived a motion to dismiss and is slated to begin discovery in April. In the meantime, the state legislature is considering a law to do away with the current licensing process. The state senate passed its version last month in a 25-10 vote, but the bill appears to be languishing in the Kentucky House. Vaughn, for one, isn't optimistic about obtaining a resolution before the state legislature ends its current session.
"You grow up thinking, 'You can be whatever you want to be,'" she says. "But if you want to be a moving company in Kentucky, you're out of luck."
Before it's here, it's on the Bloomberg Terminal.
LEARN MORE