The UN Really Hates the New Pot Laws in the U.S.
By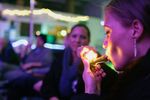 Federal officials aren't the only ones in a bind over the legalization of pot for recreational use in both Colorado and Washington State. The new laws are causing a rub internationally, as well.
The U.S. is one of 185 countries that signed the 1961 Single Convention on Narcotic Drugs, an international treaty that limits marijuana and 118 other drugs to medical and scientific uses. According to the United Nations, the statutes in Colorado and Washington put the U.S. in violation of that treaty. They "undermine the humanitarian aims of the drug-control system and are a threat to public health and well-being," Raymond Yans, president of the UN's International Narcotics Control Board, said at a press conference this week. He also decried medical marijuana laws as "a backdoor" to wholesale legalization.
Yans has been protesting the laws ever since voters passed them in November. In a speech at the time he said the statutes were cause for grave concern (PDF), pointing to studies that show pot abuse can cause cognitive problems and mental disorders. He warned that marijuana plants are much more potent today than they were more than 50 years ago when the treaty was established, and said the laws could cause an epidemic. They "would send wrong and confusing signals to youth and society in general, giving the false impression that drug abuse might be considered normal and even, most disturbingly, safe," Yans said.
The UN is essentially worried that if the U.S. government gives Colorado and Washington a pass, other countries might also be emboldened to sanction wider use of marijuana—and the treaty will get watered down. (So far only Uruguay, which is poised to pass its own legalization measure, appears to be following suit.) The problem for the agency is that it doesn't have the power to enforce the convention. Other than waging a PR campaign against countries that go rogue, the UN has no way to police them.
Will the peer pressure have an effect on U.S. officials? We might know the answer soon. Attorney General Eric Holder said this week that he's getting ready to release the federal government's official position vis-à-vis the new state laws. Until then, Colorado and Washington are pressing on. Regulators at Washington's Liquor Control Board are already writing rules for how to sell and tax pot, and Coloradans have been socializing at new marijuana night clubs. For the time being, at least, the party continues.
Before it's here, it's on the Bloomberg Terminal.
LEARN MORE