The Strange Surge in U.S. Oil Imports
by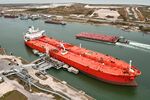 On Thursday we learned that the U.S. trade deficit widened in January by a surprising 16 percent, to $44.4 billion. The $6.3 billion increase was almost entirely the result of a sudden spike in oil imports. Excluding crude, the deficit was basically flat at around $20 billion, according to Bloomberg.
What makes this so odd is that the U.S. is in the midst of a long-term trend of reducing its dependance on foreign oil. By the end of 2012, the U.S. was importing just over 8 million barrels of crude per day, about 25 percent below the peak in August 2006 of 10.7 million. Yet, in January, the U.S. imported $24.5 billion worth of oil, up from $21.2 billion in December.
Part of that's a function of higher prices. From early December to the end of January, the price of Brent crude rose about $6 a barrel, from $108 to $114. Still, the sheer amount of oil the U.S. imported in January spiked 17 percent, to 8.41 million barrels from 7.19 million. That's the most oil imported since August. "It is certainly quite a leap, given the trend of decreasing imports," says Julius Walker, global energy markets strategist at UBS Securities.
Strangely, the countries whose imports into the U.S. have dropped the most recently saw some of the biggest increases in January. (See page 38 of PDF) Over the past few years, imports from OPEC's biggest West African members, Nigeria and Angola, have been cut in half. Yet in January, Nigerian imports rose 30 percent, to 12.4 million barrels. The amount of oil coming from Angola doubled to 6.2 million barrels in January, compared with 3 million barrels in December. "Something's definitely going on here," says Eric G. Lee, an oil analyst at Citigroup.
Neither Walker nor Lee had any definitive answers to explain the spike. January snowfall in North Dakota's Bakken field and even in parts of Texas may have slowed production in the two hotspots of U.S. shale oil production. There is also a general trend of reducing imports in December to reduce tax bills. With the exception of 2008, when prices were plummeting, U.S. oil stockpiles have fallen every December going back to 2006.
What's clear, though, is that the January spike in imports was just that, a spike. As of March 1, imports had fallen back to 7.3 million barrels per day. That's 16 percent fewer barrels than a year ago, when the U.S. imported 8.7 million barrels per day. So the trend remains intact—and actually may be picking up steam. Last week the U.S. came within 200,000 barrels of producing more oil than it imported. The last time that happened was January 1997.
Before it's here, it's on the Bloomberg Terminal.
LEARN MORE