Facebook Gets a New News Feed and, It Hopes, More Ad Dollars
By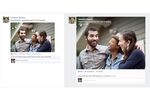 Facebook's News Feed is a little like the formula of Coca-Cola or KFC's secret ingredients. It's the first thing the company's 1 billion users see when they log on to the service, a dynamic compilation of friends' status updates, articles, videos, and advertisements—all mashed together and prioritized by the Facebook's algorithmic invisible hand.
On Thursday, News Feed got what amounts to a serious face-lift. At a press conference at the company's Menlo Park (Calif.) headquarters, Chief Executive Officer Mark Zuckerberg unveiled the significant remodeling. The service will now include larger photographs, more real estate for videos and the comments of friends who have shared them, and more space for advertisers and their revenue-producing display ads.
"We are trying to give everyone in the world the best personalized newspaper we can," said Zuckerberg, comparing Facebook to a struggling form of old media for the first time. "We believe the best personalized newspaper should have a broad diversity of content. It should have high-quality public content from world-renowned news sources and locally and socially relevant updates from family and friends and the people around you."
The company is also giving its users new tools to alter their News Feed, so they can see only the most recent posts, posts from close friends, or only specific kinds of content like photos, games, or music. Switching News Feed to "photo view," for example, shifts the page to more closely resemble the experience on Instagram, the photo sharing application Facebook acquired last year.
The changes will start appearing in the next few weeks on mobile devices such as smartphones and tablets, and will show up more gradually for PC users as the company collects feedback on the new look—and no doubt tries to avoid the kinds of kerfuffles that have plagued similar changes in the past. "Because this is a big change on the Web, we're going to be very careful about how we roll it out," said Chris Cox, Facebook's vice president in charge of product.
With the revamp of News Feed, Facebook is addressing a fundamental paradox. It wants to make the site more relevant and engaging for users while also getting advertisers to spend more—and to please its own restless investors, who are looking for improvement in the company's financial performance in the wake of a 25 percent drop in its stock price since last year's initial public offering. Facebook didn't show what the new, larger ads look like, so I can't tell how annoying or intrusive they'll be.
The good news for Facebook is that by almost any independent measure, it's already more compelling and addictive for users than any other site. It's the largest social network in the world. Its users spend more time on Facebook than with anything else on their Web browsers or phones. According to ComScore, its app in 2012 vaulted ahead of Google's to become the most popular and most engaging app among smartphone owners. And EMarketer says Facebook turned that into an 18.4 percent share of the fledgling U.S. mobile display advertising market, edging out Google's 17 percent share.
At the same time, there is a growing sense of unease, at least among those who follow the company closely, because some of Facebook's users may be defecting. A Pew survey released in February found that 61 percent of Facebook users say they have voluntarily taken a break from the service for several weeks or more. Twenty percent of online adults who do not currently use Facebook reported that they once used the site but no longer do.
There's plenty of anecdotal evidence of this shift to go around. Ask a teenager these days where they spend most of their time online, and they're likelier to say Instagram or photo messaging app Snapchat than Facebook. "The social networking space in particular is quite vulnerable to substitution. New things come along, and people sort of jump on them," says analyst Greg Sterling, of Sterling Market Intelligence. "Facebook is in a different category because of its global footprint, but I don't think it has become an indispensable part of people's lives yet. That's the threshold it really needs to cross. And this is a step in that direction."
Before it's here, it's on the Bloomberg Terminal.
LEARN MORE