What Africa Can Teach Us About the Future of Banking
by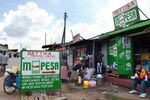 In the six years since Kenya's M-Pesa brought banking-by-phone to Africa, the service has grown from a novelty to a bona fide payment network. Unlike in the U.S., where mobile banking demands an app (or three), a smartphone, and a high-speed Internet connection, more than 55 million Africans use basic mobile phones to transfer money from one person to another, take out insurance policies, and collect payment from government agencies.
Even at a few bucks a transaction, Africa's so-called "mobile money" market is huge, topping $61 billion in 2012—greater than the amount of money sent via mobile in Europe and North America combined, according to Gartner.
Now finance and technology executives are turning their attention to Kenya's explosive mobile money market and wondering if its success can be replicated in new markets, including those of the prosperous West.
Launched in 2007 by carriers Safaricom and Vodacom, M-Pesa's success is based on its simplicity. Customers buy credit on their mobile phone accounts to pay bills or buy products. To transfer money to a person, merchant, or government agency, all they need is the creditor's related phone number. The debits are deducted directly from the mobile phone account, with no need to fuss over a bank account. Customers give debtors their mobile number to use in settling up; when a debt payment comes in, their mobile phone account is credited.
Mobile phones have spread faster than bank branches. Mobile money accounts outnumber bank accounts in Kenya, Tanzania, Uganda, and Madagascar. In just one month last year —June 2012—the value of Kenya's mobile money transactions equaled 60 percent of the country's gross domestic product, according to a new study by telecoms trade group GSMA.
Today 150 mobile money services such as M-Pesa serve more than 81.8 million customers in Africa, the Midde East, and Asia; 41 new mobile money operators launched in these emerging economies over the past year, the GSMA reported. Africa is the world's largest market: In sub-Saharan Africa, more people have a mobile money account than are are signed up for Facebook.
These systems have obvious appeal for people without bank accounts, or what the financial services industry calls the "unbanked." In Kenya, this represents more than 80 percent of the market. For many Kenyans, their first mobile phone contract served to introduce them to the world of debit and credit. With minimal banking regulations in the region, African mobile companies were able to add various retail banking services (insurance, microfinance, remittances) to the traditional pay-as-you-go contract.
Expansion won't be that easy in Europe and North America. Banking is highly regulated, as are the telecoms, and most people already have bank accounts. The U.S. Federal Deposit Insurance Corp. estimates that about 92 percent of U.S. households have a bank account; in the U.K., France, Germany, and other parts of developed Europe, the number is higher yet. Still, in these markets, banks envision an M-Pesa-type product as a way to keep their most digitally savvy customers loyal.
Last year, Barclays introduced PingIt, a mobile-to-mobile money payment service hailed as a first for Europe. "Barclays PingIt is basically M-Pesa for the developed world," said Chris Locke, managing director of GSMA Mobile for Development, adding that he expects to see an explosion of new services in the West modeled after Africa's success.
In an effort to catch up, an additional eight U.K. banks, including Lloyds TSB and RBS, will be part of a consortium that, starting in spring 2014, will allow customers to send payments via SMS or through an app to any other banking customer signed up to the network. In a survey of U.K. banking customers by the U.K. Payments Council, the majority said they would want to use a mobile money transfer service to settle up with friends and family—say, to pay back a bar bet or split the cost of dinner.
The Payments Council says its mobile money alliance will cover 90 percent of U.K. retail banking customers. That's important because in order for transfers to work, both parties have to belong to the same network. Still, if none of your dinner companions participate, you can always split the check the old-fashioned way: with cash.
Before it's here, it's on the Bloomberg Terminal.
LEARN MORE