business
Wharton to Launch a Certificate Program for Law Students
Francesca Di Meglio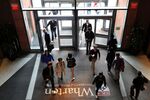 The University of Pennsylvania's Wharton School will soon be giving aspiring lawyers a rigorous introduction to business.
Penn's law school is adding a 12-week course designed for students who want to be familiar with management and business basics, according to an announcement March 4. Those who complete the program, which will be offered for the first time in the fall of 2013, will receive the Wharton Certificate in Management.
"Today, lawyers operate as part of large organizations with other lawyers and clients," says Michael Fitts, dean of the law school. "They need to understand how to lead them, manage them, and work within them."
Taught by Wharton School faculty at the business school, the course will include four modules—finance and accounting, leadership and organization design, strategic decision making and leadership, and building a strong personal brand.
The idea for the course grew out of an increased need for lawyers to gain a deeper background in business, Fitts says. After discussions with law firms, alumni, and students—and more than a year of planning—the course is now open to all second- and third-year law students. It will be broken down into 90-minute class sessions that take place twice a week. The goal, says Fitts, is for a large percentage of the class, if not all law students, to earn the certificate.
"Students need to appreciate the rapid changes taking place in American society and the legal profession," Fitts says. "Each professional needs to appreciate how his or her industry works in a larger social and technological framework."
Join the discussion on the Bloomberg Businessweek Business School Forum, visit us on Facebook, and follow @BWbschools on Twitter.
Before it's here, it's on the Bloomberg Terminal.
LEARN MORE