Unleash the Lawyer-Bloggers
Paul M. Barrett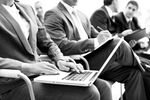 Lawyers, you may have noticed, like to yak about their exploits. Trial lawyers, trained to impress juries, really like to talk about their courtroom victories. Now the Virginia Supreme Court, in a pioneering decision, has made it easier for lawyers to boast online, as long as they warn readers that past results do not guarantee future miracles.
Prepare yourself for a new blast of barrister blogging.
The Feb. 28 Virginia ruling is the first appellate decision addressing the application of the First Amendment to lawyer blogging, according to Bloomberg BNA Law Reports. The question of when and how attorneys may market themselves via blogs and websites has become a hot topic in legal circles. The law business has taken to the Internet in force, often tossing modesty to the wind and attempting to generate new fees based on heroic descriptions of past victories.
Traditionally, bar associations have restricted lawyer advertising in the interest of protecting potential clients from misleading claims. Over the years, though, the U.S. Supreme Court and various lower courts have diluted those restrictions, ruling that attorney communication receives a measure of First Amendment protection provided to "commercial speech," otherwise known as advertising.
A case in Virginia involving a criminal defense lawyer named Horace F. Hunter has become the focus of nationwide fascination because it frames some of the cutting-edge issues in digital attorney marketing. The state's top court ruled (PDF) that a lawyer who blogs about his clients' completed cases need not get their consent but must include a disclaimer required by state attorney-advertising rules.
The Virginia majority held that Hunter did not have to seek clients' permission to discuss past closed cases, even if there was a possibility that the clients would suffer embarrassment or some other harm by the public airing of their affairs. The court also ruled that Hunter's blogging about past courtroom successes on his firm's website constituted an advertisement, even though he also included commentary on the criminal justice system. As a result, the majority said he should have included a standard disclaimer cautioning against too much reliance on past results. Two members of the Virginia high court dissented, saying that Hunter's blogs were political speech that deserved the full protection of the First Amendment. The dissenters said that Hunter's free-speech right precluded the state bar association from forcing him to include a disclaimer.
Rodney Smolla, the attorney representing Hunter, told Bloomberg BNA that he and his client plan to seek U.S. Supreme Court review of the Virginia ruling. Smolla, who serves as president of Furman University in Greenville, S.C., is one of the nation's best-known scholars and litigators on First Amendment issues. His involvement in the case could make it more likely that the high court will take a look at the Virginia case. In the meantime, the Virginia decision will have formal effect as a precedent only in that state.
One broad question the Hunter case raises—and which the U.S. Supreme Court might want to address—is whether the distinction between commercial speech and political speech ought to survive. For years, some First Amendment scholars have argued that the dichotomy has produced a confusing jurisprudence governing the varying degrees of constitutional protection for expression. Perhaps it is time for the justices to come up with a clear set of First Amendment rules covering all forms of speech.
Before it's here, it's on the Bloomberg Terminal.
LEARN MORE