Kansas City Enlists Hackers to Help Simplify Obamacare
By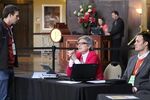 It's become trendy for local governments to host hackathons—contests in which programmers are invited to transform big clumps of government data into sleek, user-friendly apps. New York City has held its annual Big Apps contest since 2009. The White House invited software developers to compete in its first Open Data Day Hackathon in February.
Kansas City, Mo., has put its own spin on the hackathon. Last month the city held Hackovate Health, aimed at helping consumers navigate the sweeping changes taking place in the health-care system since President Obama's health-care law went into effect.
Kansas City wants to place itself on the map for tech innovation; it was the first city to test out Google Fiber, Google's new ultrafast Internet service. Entrepreneurs from all over the world were invited to come to the city to compete in Hackovate Health. They were told to design apps that would simplify health care, particularly for people getting insurance coverage for the first time under Obamacare. Other criteria included apps that make it easier to decide on an insurance plan and to figure out your tax bill under the new law. (Tax preparation company H&R Block, which is based in Kansas City, is a sponsor of the hackathon, along with Google Fiber and Quest Diagnostics.
Winners were announced last week. The winning app, eLuminate Health, comes from a startup that matches consumers and employers with doctors. On eLuminate's website, a patient can customize a local search based on each surgeon's price and quality ratings from hospitals, insurance companies, and former patients. The sites provides options for how to make payments, such as health savings accounts, interest-free loans, or payroll deductions. (The eLuminate Health platform claims it will help users save 17 percent a year on procedures and 5 percent on health-care costs, but there's no way I know of to evaluate those claims.)
First runner-up was the GetHealth app, which bills itself as a "Foursquare for health care." Users set up health plans and allow friends to "check in" to see the healthy tasks they do each day and to make them feel guilty about sitting at a desk for too many hours or not making it to the gym. They can earn points, too.
Inassist, second runner-up, says it helps patients figure out whether they've been overcharged by doctors by giving them quotes on average costs for the procedure in various locations. The company offers a free quote for users who fill out a form on its website.
Shhade (Supply Home Health Care Alternatives and Dedicated Education), an app designed by a Miami team, received the most public votes and was given the honorary Google Fiber People's Choice Award. It aims to make it simpler for doctors to connect with patients who live with home health aides, so they can cut down on costly hospital visits. The platform, according to Hackovate, allows for remote monitoring and health coaching.
It's hard to tell whether many of these apps are effective because some are still under development. Shhade, for example, doesn't even have a website yet. But given the mind-boggling complexity of the U.S. health-care system, any effort to break through the morass merits attention.
Before it's here, it's on the Bloomberg Terminal.
LEARN MORE