Demystifying the MBA Wait List
Rose Martinelli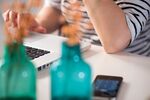 It's decision season as prospective students anxiously await the outcomes of their applications. Regardless of the type of program, waiting for decisions can be nerve-wracking. In my last post, I shared my thoughts about potential ways to think through your decision if you are so lucky as to be admitted to a number of MBA programs, including one that comes with the bonus of a sizable scholarship. This week, I'd like to share my perspective about the wait list.
While the wait-list process may vary from school to school, the purpose is pretty the much the same: It is a tool that schools use to help manage the flow of application decisions and to gauge the number and quality of applications that have yet to be evaluated. While initially disappointing to many, the wait-list decision does provide candidates with an opportunity to be reviewed again by the committee at a later point, when more information about the overall pool has been assessed.
So how should you respond to this decision? That depends on a few things. Most schools will ask you to confirm your intention to remain on the wait list. Be honest with the school and yourself. If you're not willing to make a last-minute change in your decision regarding your MBA program plans, you may wish to remove your application from further consideration. If you're able to add a bit of uncertainty to the equation, it may indeed make sense to wait and see, particularly if you are sure this school is your top choice. Keep in mind that you may need to commit to another school if you intend to pursue your MBA this year while waiting for your final decision. This decision will require additional cost for deposits and will require that you manage the other school appropriately.
Second, all schools handle their wait lists differently. Make sure you carefully read and follow the wait-list instructions. Some schools are very specific about the limitation of materials and contact, while others provide a great deal of flexibility. Visits to campus are not necessary and are often frowned on, particularly if you plan to try to meet with admissions officials to "make your case." If you haven't had a chance to visit the school in the past, however, making a trip might make sense for you to decide if the wait list is a worthwhile investment of your time and effort.
Finally, lots of candidates are admitted each year from the wait list. Be careful not to get caught in the mindset that candidates admitted from the wait list are second-class admits. From my experience, nothing could be further from the truth. Good luck.
Before it's here, it's on the Bloomberg Terminal.
LEARN MORE