Back in the Startup Game After Billion-Dollar Exits
by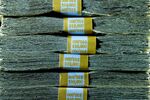 What would you do if you sold your business for more than $1 billion—yes, that's billion, with a "b." Spend more time with your kids? Buy a half-dozen cars? Invest in business ideas?
In March 2007, Cisco Systems bought Subrah Iyar's Internet conferencing company, WebEx Communications, in a deal valued at $3.2 billion, and he did all that. Now he's back in startups: He and his daughter Leena, a business student at King's College London, had the idea for Moxtra, which launched in Cupertino, Calif., in June. With 25 employees, the company launched its first product, an app to organize content in virtual binders, in late January. He boasts that it attracted more users in its first two weeks than Pinterest did in its first 18 months.
Why return to the risky—Iyar has sunk $2 million into Moxtra—high-stress world of entrepreneurship? "After a while, you realize that all your peers are working. They go, 'Yeah, sure, we'll meet you on Saturday,' but you find you don't relate to their problems and they don't relate to you. It can get pretty lonely," he says. "This is fun. I feel engaged and there's a reason to wake up in the morning."
Billion-dollar exits are rare. Mergermarket, which tracks mergers and acquisitions globally, indicates that less than 8 percent of the top North American deals of 2012 (PDF) involved upwards of $1 billion. They're even rarer for small businesses. BizBuySell, an online business-for-sale marketplace focused on Main Street companies, says the median asking price for a U.S. small business reported as sold on its site in 2012 was $185,000; the median sales price was $160,000.
Still, Iyar's experience post-sale isn't unusual, says Charles Jacobs, a business consultant at Boston-based 180 Partners and author of Management Rewired. He currently has three clients whose previous companies sold for between $30 million and $300 million, he says, and all of them are back working on new companies.
"It really ain't about the money," he says. "Entrepreneurs' sense of self-esteem is tied up in doing something important and great, and they care about how they're perceived. Also, neuroscience shows that dopamine makes us happy, but it is not released when you receive a reward. It's when you're working toward something and you are completely consumed by it, whether it is rock climbing or building a business or whatever, that you're truly happy."
Jacobs should know. He sold his previous management consultancy for $10 million in 2001, just after his first daughter was born. "We signed the paperwork and everybody was shaking my hand and congratulating me, but the most astonishing thing was, I wasn't feeling happy," he says. He determined he could live the rest of his life on the funds ("I'm a frugal guy," he jokes), so he devoted himself to hobbies, renovated his home, and eventually bought two acres in the Caribbean, where he lived for five years.
It sounds idyllic, but "I was really lost," Jacobs admits. "I finally decided to start my consulting practice again. It is the best thing in the world. I love what I do and there's an incredible energy I feel doing it."
Iyar agrees. At the time of WebEx's sale, Iyar was 50 and owned about 8 percent of the Santa Clara (Calif.) business, which he started in 1995 and took public in 2000. The India-born engineer, a veteran of Intel and Apple, says, "Money was not a factor by that time; I had enough to take care of my family. Once you reach a certain level, it was more than I could imagine."
Iyar stepped out of the spotlight for a while, but grew tired of investing in other people's ventures instead of developing his own. "You find that you're sort of the money guy, but what you really want is to be part of the creative process. You're helping other people in their game, but all you have is an opinion. For me, there was a revelation that I like the game of innovation and I want to write my own script," he says.
Marty Dubin, a psychologist and partner at management psychology consultancy RHR International in Denver, likens highly successful entrepreneurs like Iyar to elite athletes. "Just because they win a gold medal doesn't mean they stop competing. They're always looking for the next challenge. And many [entrepreneurs] have had both successes and failures in their past, so they're not that afraid of failure and they have an inherent comfort with taking on risk," he says.
Serial entrepreneur Paula Long says she is into "hard-core geekdom" and "not good with unstructured time." So when EqualLogic, the Nashua (N.H.) data storage company she co-founded, sold to Dell for $1.4 billion in November 2007, she didn't think about retiring to a beach somewhere.
At the time, the deal was called the largest-ever cash purchase of a private, venture-backed tech company; her ownership share amounted to about 2.5 percent. "I did wonderfully, I did amazingly well," says Long, who stayed through the ownership transition and then spent time building a new home and setting up a charitable trust with her husband, Richard. She eventually took a job at a different company and consulted with other entrepreneurs, but neither was a perfect fit.
"I went to a career coach and everything he told me about myself I already knew and wasn't going to do anything about," she says. She also realized something else: "My days were filled with helping other startups and working with VCs but I wasn't having any fun."
In February 2012, Long founded a new company, DataGravity, also in Nashua, where she serves as chief executive officer and has 30 employees working on data intelligence and solving the problem of analyzing big data. She's back in her element: The company raised $30 million in venture capital in January, bringing its total to $42 million, and is working toward customer trials this summer. Long hopes to be shipping the product by next year.
Before it's here, it's on the Bloomberg Terminal.
LEARN MORE