Pollution, Risk Are Downside of China's 'Blind Expansion'
By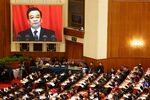 The work report is the closest thing China has to a State of the Union address. The latest annual report (PDF), delivered by outgoing premier Wen Jiabao on March 5, shows a clear awareness among China's leaders that the nation faces major challenges. The economy was portrayed as still too reliant on investment over consumption while favoring inefficient state enterprises over the private sector and facing in many industries what Wen termed "blind expansion" that has led to overcapacity, pollution, and financial risks.
Wen will step down at the end of the congress, following 10 years as premier, to be replaced by 57-year-old Li Keqiang; Hu Jintao will give up the presidency to 59-year-old Xi Jinping at the same time. Speaking before close to 3,000 delegates assembled in Beijing's cavernous Great Hall of the People for the opening of the almost-two-week-long National People's Congress, 70-year-old Wen for the last time reviewed China's progress and laid out the leadership's goals for 2013 while presenting a blizzard of statistics. He didn't provide specifics on how the goals are to be met. "What we have here is declaration of principles and a wish list," says Andrew Batson, Beijing-based research director for China-focused economic consultancy GK Dragonomics. "But there is not a huge amount of concrete stuff."
Following calls for a more sustainable economy that were recently reiterated by China's incoming leaders—including Xi's No. 2, Li—Wen set a growth target of 7.5 percent. That's the same level as last year, down from the 8 percent annual target from 2005 to 2011. (Last year, gross domestic product grew 7.8 percent, its slowest rate since 1999.) That's part of an effort to re-balance toward quality over quantity, moving away from years of reliance on turbo-charged, investment-led growth dependent on exports, while focusing more on domestic consumption. "Unbalanced, uncoordinated, and unsustainable development remains a prominent problem," Wen said.
The leaders of China must "guide all the people to shift the focus of their work to accelerating the change of the growth model, adjusting the economic structure and improving the quality and performance of economic growth, so as to promote sustained and healthy economic development," Wen said.
Foreign trade is to increase by 8 percent this year, Wen said, down from the 10 percent goal in 2012. A weakened global economy, rising Chinese labor costs, and rampant environmental problems are challenging China's once-strong model of low-cost, export-oriented manufacturing. Last year, exports grew 7.9 percent and imports rose 4.3 percent, with total trade up only 6.2 percent, well below 22.5 percent in 2011. "We should raise the quality and returns of foreign trade, rather than just increase its volume, and raise its overall competitive advantages instead of relying on cost and price advantages," Wen said. Says GK Dragonomics Batson: "There is a pretty clear acknowledgement that the environment for China's exports is not going to get better—they know they can't count on that."
To encourage Chinese to spend more and boost private consumption (which contributed 33 percent to GDP in 2010, down from 46 percent in 2000), Wen announced plans to expand the social welfare safety net. Measures included raising pensions and subsistence allowances for the urban and rural poor, improving basic public health services, and building 4.7 million government-subsidized affordable apartments. "We must make ensuring and improving people's well-being the starting point and goal of all the government's work," Wen said.
To help fund it all, China plans to run a budget deficit of 1.2 trillion yuan ($193 billion), about 2 percent of GDP and 50 percent larger than last year, the finance ministry said in its own report (PDF), also released at the congress in Beijing on March 5. "The higher fiscal gap and improved consumption will be positive for the economy," Hong Kong-based Dariusz Kowalczyk, senior economist at Crédit Agricole CIB, told Bloomberg News before the report came out. Boosting spending on social welfare would "help reverse the rising trend in the savings rate," he said.
Concerns remain about the prospect of renewed inflation. Risks from property bubbles, rising local debt, and an unregulated, fast-growing shadow banking sector mean Beijing is loathe to move too quickly to encourage rapid economic expansion. The 2013 inflation target is 3.5 percent, down from a 4 percent target; the actual price rise in 2012 was 2.6 percent. "There is this tradition of worrying about growth [amongst China's leaders] but it is counterbalanced by awareness of risks today," says Louis Kuijs, chief China economist at Royal Bank of Scotland in Hong Kong. "That can lead the government to be more in the tightening mode rather than stimulus mode."
To counter the 2008 global financial crisis, China's leaders launched a credit-fueled infrastructure boom that has left local governments with a major debt burden that was officially estimated at 10.7 trillion yuan ($1.7 trillion) in 2010. "There are concerns that some local governments are accumulating too much debt for short-term high growth," Li Daokui, a former advisor to China's central bank, told reporters at the congress. "They are consuming May's grain in April."
Before it's here, it's on the Bloomberg Terminal.
LEARN MORE