In Florida, Sinkhole Risks Grow With Urban Expansion
By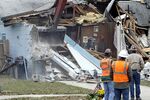 There must be something about Florida. In spite of regular hurricanes and alligator attacks, the state keeps growing: Its population is on track to hit 20 million by 2015, making it the third-biggest state in the union.
With all this growth comes a further quality-of-life problem: Sinkholes. Thrust into the national spotlight last week after a homeowner died when his house collapsed, the sinkhole that killed Jeff Bush wasn't even one of the state's 15,000 verified sinkholes, which are located mainly in central Florida and around Tampa. Plenty are unverified, according to research from CoreLogic. Springhill, on the state's west coast, has the greatest number of  verified sinkholes, with 3,145—roughly one for every 31 residents. Hernando, Pasco, Hillsborough, and Pinellas counties are home to an area known as "sinkhole alley."
No location in the entire state can say it features zero chance of sinkholes. "Since the entire state is underlain by carbonate rocks, sinkholes could theoretically form anywhere," according to lakecountyfl.gov. Most construction sites are not tested.
"They're a fact of life in [many parts of] Florida," says Howard Botts, a geographer and vice president of database development for CoreLogic's spatial solutions group. As cities grow, requiring more water to be pumped out of the ground, it will only get worse, he adds.
From 2006 to 2010 the number of sinkhole claims in Florida tripled, costing insurers a total $1.4 billion over the period, according to a report (PDF) by the Florida Office of Insurance Regulation. In response to insurers' claims that many claims were fraudulent and burdensome to the industry, the Florida legislature passed a law limiting sinkhole coverage in 2011.
Attorney Josh Burnett says the change has made it hard for Florida homeowners to get meaningful sinkhole coverage. Despite the reduction in coverage, sinkhole insurance premiums have increased—for example, the rate for sinkhole coverage this year rose 21.4 percent at Citizens Property Insurance, Florida's largest property insurer. The number of sinkhole claims received by Citizens already had decreased by 30.4 percent in 2012.
Outside Florida, no major U.S. cities have natural sinkhole problems, says Botts, although underground pipes can burst and wash away dirt that supports roads, or an underground mine could collapse. As human impact increases, he says, so will the risks.
Before it's here, it's on the Bloomberg Terminal.
LEARN MORE