Gross Says Yen to Fall to 100 Per Dollar on QE Concern (Earlier)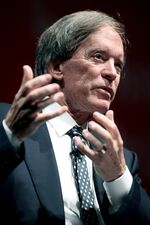 March 5 (Bloomberg) -- Pacific Investment Management Co.'s Bill Gross, manager of the world's biggest bond fund, said the yen is likely to weaken to 100 per U.S. dollar on concern stimulus measures by the Bank of Japan will debase the currency.
* "We're going to see a lot of printing of yen," Gross said
during an interview on Bloomberg Television's "Market
Makers" with Erik Schatzker and Stephanie Ruhle. "You want
to avoid the currency that prints the most, that endorses
quantitative easing to the fullest extent."
For Related News and Information: Bond yield forecasts: BYFC <GO> Top bond market news: TOP BON <GO> World bond markets: WBX <GO> Sovereign debt monitor: SOVR <GO>
Before it's here, it's on the Bloomberg Terminal.
LEARN MORE