China to Raise Budget Deficit by 50 Percent to Boost Demand
Bloomberg News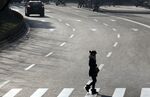 China plans to raise its budget deficit by 50 percent this year as the central government cuts taxes and boosts measures to support consumer demand in the world's second-biggest economy.
The gap will widen to 1.2 trillion yuan ($193 billion) in 2013 from 800 billion yuan last year, amounting to about 2 percent of gross domestic product, the Ministry of Finance said in its budget report to the National People's Congress in Beijing today. Local governments will run a combined deficit of 350 billion yuan and the Ministry of Finance will issue bonds to cover their shortfall, according to the report.
The larger fiscal deficit indicates China's incoming leaders may step up efforts to support expansion and address income inequality, with growth forecast to fall below the annual average of 10.5 percent the country reported under President Hu Jintao and Premier Wen Jiabao. Officials have pledged to make expansion more sustainable, emphasizing quality over speed and Wen said today he's targeting 7.5 percent economic growth this year.
"The higher fiscal gap and improved consumption will be positive for the economy," Dariusz Kowalczyk, senior economist and strategist at Credit Agricole CIB in Hong Kong, said before the report. Boosting spending on the social safety net and education subsidies would reduce inequality and "help reverse the rising trend in the savings rate," he said.
Appropriately Increase
Fiscal spending is targeted to rise 10 percent to 13.8 trillion yuan and revenue will grow 8 percent to 12.66 trillion yuan, excluding funds to be transferred from the stabilization fund, the ministry said in a budget report presented to the National People's Congress.
Including 100 billion yuan of transfers from the stabilization fund, revenue this year will be 12.76 trillion yuan, the ministry said. The stabilization fund is a "rainy day" fund where excess fiscal revenue is deposited and then released when needed, according to the ministry.
China "needs to appropriately increase the fiscal deficit to maintain support for economic growth and restructuring," the ministry said in its report. The government will ensure funding for key areas such as agriculture, education, medical and health care, social security, employment, government-subsidized housing and public culture, it said.
Growth Pickup
China's economy expanded 7.8 percent last year, the weakest pace since 1999, as Europe's debt crisis limited exports and government restrictions curbed the real-estate market. The median estimate of 43 analysts surveyed in February by Bloomberg News is for a pickup to 8.1 percent growth in 2013.
UBS AG estimated a 2013 budget deficit of 1.5 percent of GDP while Nomura Holdings Inc. forecast 2.1 percent, according to reports last week. Bloomberg News reported in December that the nation would target a 50 percent increase in the budget deficit this year, citing a person familiar with the matter.
"Historically this is not as meaningful an indicator of the fiscal policy stance as it is in other countries," Zhang Zhiwei, chief China economist at Nomura in Hong Kong, said in a Feb. 27 note. The budget doesn't cover local-government spending through their financing vehicles, the central fiscal-stabilization fund which is tapped when the government wants to boost spending or outlays by various state-owned enterprises and the Ministry of Railways, Zhang wrote.
Higher spending this year may help the government meet a challenge set by then-party chief Hu in November to double per-capita income by 2020 from 2010 levels and promote urbanization that premier-in-waiting Li Keqiang has said will become a new growth engine for the world's second-biggest economy.
Social Security
Chinese people want "more income, greater social security, better medical and health care," Xi Jinping said in November after taking over as head of the Communist Party.
Boosting outlays on social security and public housing and changing the tax system to help lower-income families also dovetail with policy makers' long-standing pledge to shift the economy to consumption-led growth and away from a dependence on investment and exports.
"What hampers the Chinese consumers' purchasing power and willingness to spend is not just their propensity towards savings," Banny Lam, co-head of research at Agricultural Bank of China International Securities Ltd. in Hong Kong, wrote in a March 1 note. "The ever-increasing price level of general merchandise, the skyrocketing housing costs, relatively slow growth of personal income and flawed social welfare system all contribute to the reluctance."
Housing Projects
Central government funding for social security and employment will rise 13.9 percent this year to 655 billion yuan, while basic pension benefits for retirees of enterprises will increase by about 10 percent, according to the report.
The amount of central government money earmarked for affordable housing will rise 5.3 percent from 2012's budgeted figure and decline 14.3 percent from the actual spending last year, according to the report.
The ministry attributed the drop to a decline in the number of government-subsidized housing projects this year, and because of one-off additional investment last year in building government-subsidized housing, supporting urban infrastructure and renovating dilapidated rural housing.
Military spending will rise 10.7 percent to 740.6 billion yuan this year and outlays on public security will increase 8.7 percent to 769 billion yuan, according to the report.
The ministry said bond issuance for the central and local governments will rise in 2013, without giving a figure.
Debt Warning
China will strengthen management of local government debt and "resolutely" stop some authorities from securing financing or guaranteeing debt payments in violation of laws and regulations, it said. A mechanism will be set up to warn when local government debt becomes too large, it said.
The budget deficit for last year was in line with the target, according to today's report.
The ministry reiterated that it will pursue a "proactive" fiscal policy this year, in line with the stance set by the Communist Party and the government after December's annual central economic works conference.
Fiscal revenue in 2012 rose 12.8 percent to 11.7 trillion yuan, the ministry said today, compared with a 9.5 percent target set in March last year. Fiscal spending increased 15.1 percent to 12.6 trillion yuan, against a goal of 14.1 percent.
The central government moved 270 billion yuan out of the stabilization fund last year and put in 18.4 billion, according to today's statement.
Before it's here, it's on the Bloomberg Terminal.
LEARN MORE