'Humans of New York' Makes an International Brand's Screw Up Pay Off for City Kids
Clothing label DKNY used photographer Brandon Stanton's images without his permission, but this story has a happy ending.
By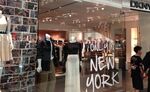 Last year, I wrote about street photographer Brandon Stanton, who has been recording some of New York's most wonderful characters with his Humans of New York project. He's amassed quite a following in the two-plus years that he's been taking pictures of the people who populate the city's streets. When I interviewed him last April, he had 60,000 likes on his Facebook page. Now he has 581,000, and has signed two book deals for his work.
Stanton loves what he does, and his compassionate connection with his subjects -- whether they're little kids out playing in the street or old men sitting on a park bench, teenage lovebirds, or snappily dressed businessmen – is clear in every frame.
That was probably one of the qualities that attracted the international clothing label DKNY to his work a few months back. Stanton says they wanted to pay him $15,000 to use 300 of his pictures for promotional purposes, and made a detailed pitch. He "politely" turned them down.
So imagine his surprise when a friend texted him from Thailand with the news that his photos were on display in a DKNY window there – in precisely the same kind of layout that the company had proposed to him earlier.
"My first reaction was emotional," says the 28-year-old Stanton. "It was like they felt they could do this to me because I was some stupid blogger. It felt like a violation not just of my art but of artists everywhere."
He called some friends to get advice on how to handle the situation, and everyone was talking to him about litigation. But Stanton immediately decided that wasn't the way he wanted to go.
"I didn't want to publicize this for my own enrichment," he says. "I thought that would be an unethical use of social media."
Instead, he threw up a post on Facebook challenging DKNY to donate $100,000 to his local branch of the YMCA in Bedford-Stuyvesant. Why the Y? Stanton says they are in line with his own vision of what's really important in New York's neighborhoods.
"In places that are more economically diverse, [the YMCA] plays a really important role in providing stability and accountability," he says. "The Y is on the front lines of community-building."
Without contacting Stanton directly, DKNY made a $25,000 donation to the Bedford Y in his name. On its Facebook page, the company made this statement about the use of Stanton's photos:
For the Spring 2013 windows program, we licensed and paid for photos from established photography service providers. However, it appears that inadvertently the store in Bangkok used an internal mock up containing some of Mr. Stanton's images that was intended to merely show the direction of the spring visual program. We apologize for this error and are working to ensure that only the approved artwork is used.
Stanton didn't stop there. Knowing how successful his online community could be at fundraising – by teaming up with Tumblr, they collected nearly $320,000 in the wake of Superstorm Sandy -- he asked his followers to make up the $75,000 difference in his original ask, enabling 300 kids to go to the Y's summer camp program. Humans of New York fans responded big time, raising $103,710 in just 72 hours.
That has made the people at the Bedford Y pretty happy, according to Metro NY:
"It's just such a blessing," [marketing director Sonia] Atherly-Meertins said at the YMCA on Saturday. "We're set to make this a really cool summer for a lot of kids who might not have been able to come otherwise."
Stanton says he's happy with how things have turned out. Now he plans to keep on doing what he's been doing since 2010: approaching New Yorkers on their own terms, taking their pictures, and telling their stories. So far, it's been working out just fine.
Top image: The window displays in question at the Bangkok DNK. Courtesy Brandon Stanton.