Why Chinese Companies Need Disaster Insurance
Christina Larson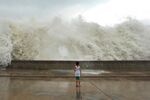 Climate change, nearly all scientists agree, makes our global climate system more unstable—leading to increased frequency of extreme weather events.
Last year the single most devastating—and most expensive—natural disaster was Hurricane Sandy, according to London-based reinsurer Aon Benfield. In addition to hitting the eastern U.S., it wrought havoc in the Caribbean and the Bahamas. "Sandy was a very unique storm, coinciding with the highest tide of the quarter," says Steven Bowen, Aon's senior scientist. "And it had the largest wind field—1,100 miles in diameter—of any tropical cyclone in the Atlantic Basin since 1988." The firm estimates the storm caused $65 billion in total damages, of which roughly $28.2 billion (or 43 percent) was insured.
Meanwhile, according to Aon Benfield's calculations, four of the 10 most expensive natural disasters in 2012 took place in China, including three severe summer flood episodes (one of which engulfed Beijing and surrounding areas in July) and the landfall of Typhoon Damrey, which struck the eastern provinces of Jiangsu, Shandong, and Hebei. The western provinces of Yunnan and Sichuan also experienced severe drought and related crop damages. The total cost from these and other extreme weather events in 2012 reached an estimated $29 billion.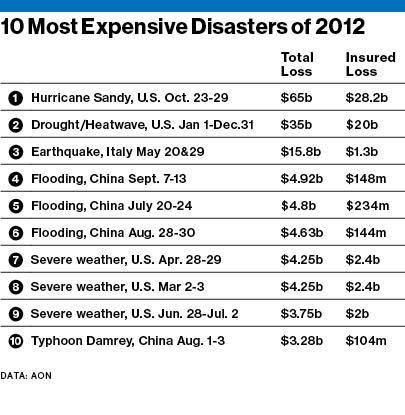 Compared with the U.S., "insurance penetration is still fairly low" in China, says Bowen, "though it is gradually on the upswing." While the floods around Beijing caused an estimated $4.8 billion in damages, claims filed with the China Insurance Regulatory Commission show that only about $234 million (4.86 percent) of that was insured. And insurance penetration around China's capital is higher than in most other regions of the country. Typhoon Damrey, for instance, damaged infrastructure and cropland along the Eastern Seaboard, costing $3.28 billion. Of that, just $104 million (3.17 percent) was insured.
The Chinese government's Second National Assessment Report on Climate Change, published in 2011, projects that China will be one of the countries most affected by global warming. "Climate change has become a significant concern in China," says Tao Fulu, a meteorologist at the Institute of Geographic Sciences and Natural Resources Research of the Chinese Academy of Sciences in Beijing. "It is more significant for China than the global mean."
Climate change will increase the frequency and intensity of floods, droughts, and heat waves, Chinese scientists project, and will alter agricultural production and threaten coastal cities as the sea level rises, including manufacturing export zones in the Pearl River Delta. On Tuesday, the country's State Oceanic Administration issued its latest report on possible responses to a rise in the sea level. The agency's Secretary Wang Feng told Xinhua News Service that China has more than 1,000 small islands and reefs that may be impacted, among them Hainan Island, a vacation hot spot known as "China's Hawaii." He also mentioned the threat of rising sea levels in the East China Sea, without naming specifically the Diaoyu Islands—territory that's contested by Japan and China.
"There's limited insurance coverage" for natural disasters in China, says Aon's Bowen, "and that's fairly similar around the developing world."
Before it's here, it's on the Bloomberg Terminal.
LEARN MORE