MBA Journal: Putting What I've Learned to Use
Thomas Sneed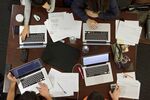 The second semester of my MBA program has started at Emory's Goizueta Business School. Financial accounting will be another novel topic for me, and we're embarking on a new team project. So, what impressions do I have from a completed first semester, and what do I expect going forward?
In my part-time program, most students take two classes per semester. However, we participate in an additional course during our first three semesters called "Management Practice." This is our opportunity to work within a team framework on an actual project for a client with a major presentation as the capstone event at the end of each semester. Even after undergrad, law school, and another master's degree, this was my introduction to a significant academic team project. I will admit I was somewhat apprehensive because we all have different schedules and ways of doing things. Nevertheless, it went much better than I expected and I learned a great deal from my teammates. We may not have had the winning final project, but we organized a major task with the appropriate time management necessary to accomplish the goal.
The final presentation was also more nerve-racking than I anticipated. I have presented at numerous regional and national conferences, taught at two different law schools, and stood in front of judges as an attorney, but the thought of this 20-minute production was a bit disconcerting. It was great practice in the art of persuasion, and I now have a greater appreciation for those in the business world who must do this type of public speaking on a regular basis. It is not easy.
With the stresses of first semester now behind me, I have decided to lighten my course load. I am only taking one core class along with our team project. I found that being in class two nights per week was more difficult than I had expected. If anyone out there is thinking about the part-time option for business school, remember that it is a huge time commitment in addition to your day job. While it will take me an extra year to finish my MBA, I will be able to spend more quality time with my young family, which is a huge plus. I will also be able to focus on fewer classes and spend more time studying these new topics.
Since I am not really looking to change industries or functions with this degree, I am not considering summer internships like many of my full-time colleagues. Teamwork, project management, and even a bit of marketing are already finding useful parallels in my daily work at the law library. One of my personal projects for this past semester was to implement several of the public speaking tools taught in "Management Practice" into the class I teach at the law school. Who would have thought that an MBA program would help me focus on the use of my hands and storytelling while teaching law students about SEC filings?
Between journal entries, you can keep track of Thomas's business school adventures at the Business Schools Facebook page. Follow the Bloomberg Businessweek B-Schools team on Twitter.
Before it's here, it's on the Bloomberg Terminal.
LEARN MORE