To Report Election Violence in Kenya, Text Ushahidi
By and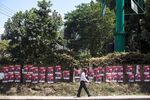 In the crisis that followed Kenya's last presidential election at the end of 2007, more than 1,100 people were killed and at least 350,000 were driven from their homes. Inflammatory text messages and emails helped incite the attacks across one of Africa's most wired countries.
To document the violence, a small group of volunteer programmers, mostly in Kenya, enlisted the same tools. They wrote software to map reports of trouble sent by witnesses online or by mobile phone. Tens of thousands of Kenyans, as well as global media and humanitarian groups, used the site to track the chaos in near-real time. The developers called the project Ushahidi, Swahili for "testimony."
Kenyans vote again March 4. Ushahidi is now a nonprofit startup backed by philanthropies including including Omidyar Network and the Ford Foundation. Ushahidi is part of a movement in Kenya to harness technology to curb attacks and ensure fair elections. "Together we'll transform mobile phones from a medium for violence to a strong tool for peace," says Rachel Brown, chief executive officer of Sisi Ni Amani Kenya, a community group promoting peace.
About 70 percent of Kenya's 42 million people have mobile phones, more than double the number five years ago, according to government and World Bank data. Safaricom, Kenya's biggest mobile carrier, is donating 50 million text messages to Sisi Ni Amani Kenya to send appeals for calm to residents in election hotspots. A government commission meant to promote harmony among ethnic groups has set up a number for people to send reports of hate speech.
After the last disputed election, rival ethnic groups clashed for two months before a compromise installed Raila Odinga as prime minister. Odinga's rival for the presidency now, Deputy Prime Minister Uhuru Kenyatta, has been accused by the International Criminal Court of directing some of the violence five years ago and is set to stand trial with his running mate, William Ruto, at the Hague in April. Both deny the charges.
Ushahidi hopes Kenyans can help avoid repeating the crisis. The group has put ads on buses and taxis encouraging people to text 3002 to report what's going on at polling places. The group's staff and volunteers will watch the reports streaming in by text message, email, Facebook, and Twitter, and verify them with the 30,000 election monitors that civil society groups are sending to the polls. The citizens' accounts will be published on the web site Uchaguzi, the Swahili word for elections.
The software has evolved from a way to map what's going on to a tool for responding to problems as they arise. "The crowd served as this early warning signal," says Erik Hersman, a Nairobi tech entrepreneur and one of Ushahidi's founders. During Kenya's 2010 referendum on a new constitution, the site got a report of youths gathering with machetes in an area called Molo, known as a hotspot for violence, about 125 miles from Nairobi, Hersman says. Ushahidi verified the report with election monitors and then alerted Uwiano, a United Nations-backed peace group, which in turn alerted the police. "Fifteen minutes later, two truckloads of police showed up and dispersed the youth," Hersman says. "To the person who reported it, it was like magic."
Ushahidi's software is free and open for programmers to adapt, and it's reached far beyond Kenya's borders. The software and has been used 49,000 times in 159 countries and translated into 31 languages. People have used Ushahidi to map everything from post-earthquake Haiti to bike injuries in Los Angeles.
Omidyar Network, eBay founder Pierre Omidyar's organization that makes grants and investments in social enterprises, has supported Ushahidi with $3.7 million in grants since 2009. "It grew out of the post-election violence in Kenya but we could see how it could be used for election tracking, for corruption monitoring, for crisis reporting," says Stephen King, a partner at Omidyar in London. Last week the group got a $750,000 award from the MacArthur Foundation.
After the earthquake in Haiti in 2010, Ushahidi aggregated 300,000 reports, showing which roads were blocked by rubble and highlighting places in particular need of water, food, or medicine. "It became the default map that people were looking at," King says. The app has been used during elections in Ghana, Burundi, and Lebanon; to track violence in Syria and flooding in Japan and Australia. News organizations like the BBC have embedded Ushahidi maps on their websites.
Still, Hersman says technology alone can't stop violence or ensure fair elections. "It's not a magic bullet. It's just part of the equation," he says. "It's the stuff on the street that matters. It's the people voting, it's the election monitors on the ground, it's the people who enforce the rule of law that matter here."
Before it's here, it's on the Bloomberg Terminal.
LEARN MORE