The Analytics of Fighting in Cages
How do you measure an ass-kicking?
By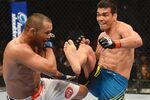 Probably the surest sign that we are approaching peak statistics is a panel at this year's MIT Sloan Sports Analytics Conference called "Breaking Down the Fight: MMA Analytics," the first of its kind for the conference. Moderator John Wertheim of Sports Illustrated billed it as a "non-ironic panel" and he wasn't kidding. He and ESPN commentator Jordan Breen, fight journalist Luke Thomas, current Ultimate Fighting Championship bantamweight title holder Dominick Cruz, and Rami Genauer, who keeps the closest thing the sport has to box scores at his website FightMetric, spent an hour soberly breaking down the status of stats in the UFC.